I love Peabody. She's got the right attitude about life as far as I'm concerned and that earns my respect (along with the fact that she generally kicks ass). I've thought a lot about life and the lemons and how some make lemonade and others just turn into sniveling messes as if a giant lemon has fallen from the sky and pinned them to the ground. In times of crisis, the true nature of an individual emerges. Sometimes it will surprise you for the better, and many times it will disappoint you. I pride myself in rolling with the punches through shitty times, and I do mean shitty times.
I have seen people wallow in self-pity or let their tragedies define who they are and dictate their lives. Not my cuppa, kids. My friend's mother has a terrific saying: If you look up, there is no limit, and if you look down, there also is no limit. Life always could be better, or worse. Get over yourself and make the best of what you've got.
It's very likely I will be losing my hair in the next several weeks. My surgeon delivered this news with what I detected was a hint of sympathy last month. I neither need nor want pity. It's just hair and it will grow back. I understand it's not the hair, but the condition that elicits this response in people. I am a rock and I am so gonna own this. Rather than feel blue, I went and lopped my hair off and dyed it blue.

grab life by the hojos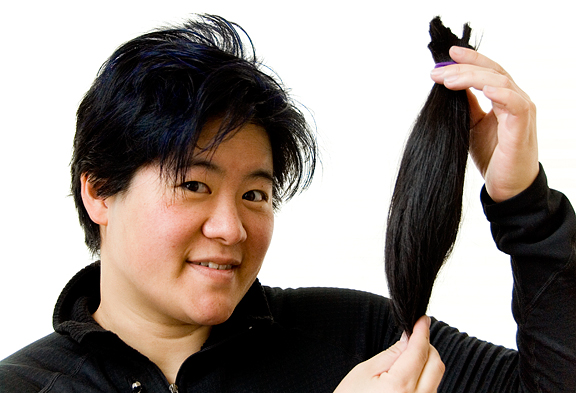 Okay, so the blue isn't quite the punkass shocking blue I wanted. They are more like highlights, but I am told that with subsequent washes, the color will lighten and become more apparent. I've never had my hair bleached or dyed before! Jeremy tells me it's very blue in sunlight and florescent light. I've donated my hair to
Locks of Love
five times now. It takes 2-3 years for me to grow a ponytail long enough (minimum 10 inches, but I try for 16+ inches) to send in. This incredible organization makes prosthetic hairpieces for children with medical hair loss who cannot afford them. I barely eeked out 11 inches on the ponytail, but I wasn't going to let this opportunity go to waste. I don't want to make this about me. I want to make it about living life the right way. Just remember: blue by choice. I am referring to color, not outlook. My choice.
Recall the zebra torte I posted about yesterday? There was an extra layer of vanilla chiffon cake and I had some extra whipped cream and extra raspberries…

bunch of scraps or a tidy dessert – your choice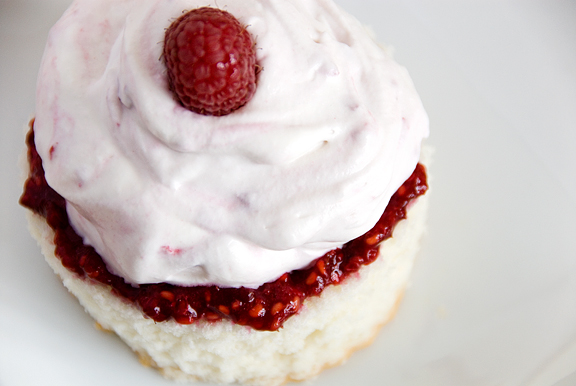 It was unbelievably simple to slap together and I presented it to Jeremy just as he sat down to sip on a nice steaming cup of coffee. Basically, I biscuit-cuttered a round of chiffon cake. Mashed a handful of raspberries to a pulp and spread a layer over the cake. Then I folded some of the mashed berries into the sweetened whipped cream and dropped a big dollop on top of the berry layer, and garnished with a fresh berry. It could have benefited from a little soaking syrup in the cake. I'll have to try that next time.
Many of you are no doubt familiar with Deb. She's one of my favorites and I've been inspired by many a recipe off that lovely blog of hers. Recently she wrote about making truffles. I was planning on a batch anyway, but thought I'd try this new twist with the thin chocolate shell (without the need to temper – THANK YOU!). This batch of truffles was intended for some very special recipients, so I went to my cupboard of chocolate and selected:

valrhona 64%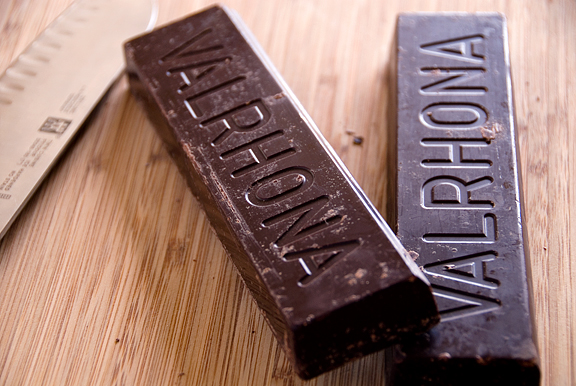 It was messy. There was swearing. In the end the chocolate and I came to an understanding and there was something Zen in the way it all came together.
for the chocolate lovers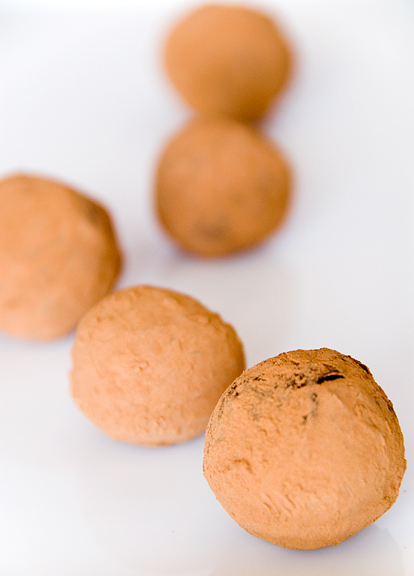 sending this package of handmade goods to my pal, sam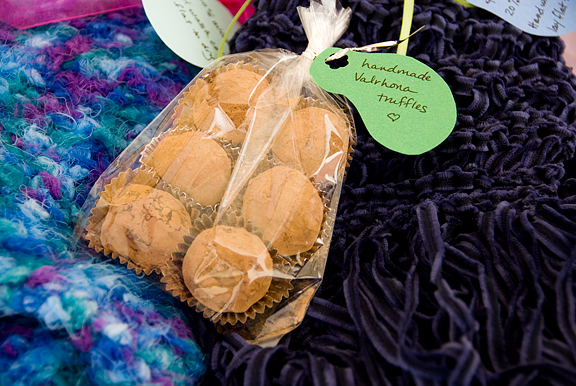 Make lemonade.