Sunday, February 8th, 2015

Recipe: huckleberry meringues
The Front Range got the goods this past Wednesday – 8 inches of snow to replenish our dwindling reserves in the mountains. Since then, our region has been hammered with several unseasonably warm and sunny days. Hey East Coast, I think we should arrange for a trade! Of course, you make due with what you get. I don't wait for perfect conditions because I'd only get 3 ski days a year around here. I just pick the type of skiing that is best suited for the weather and snow conditions, and get myself outside. It's all about exercise, the mountains, and fresh air. I do the same in summer, except without the skis.

powder in the glades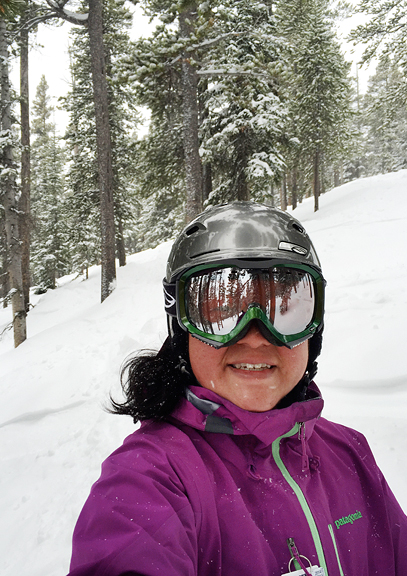 putting skins away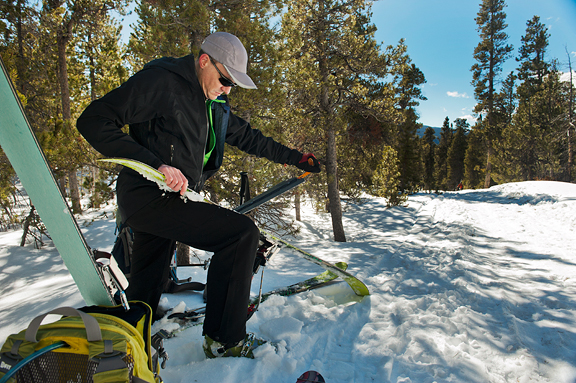 skinning up the side of the drainage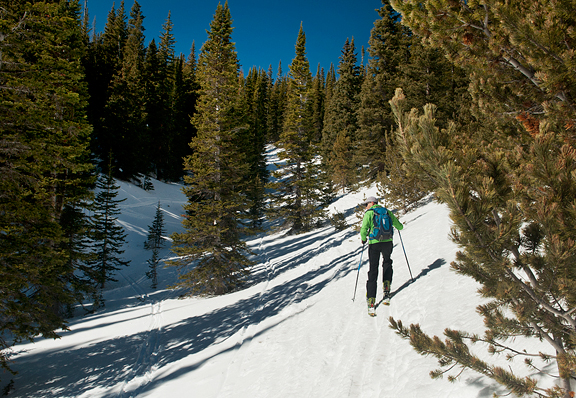 It almost felt like summer on Sunday. We skinned up into the backcountry through snow that was fast disintegrating into mashed potatoes, peeling off layers of clothes as the sun rose higher into the sky. Jeremy and I unzipped the side vents in our ski pants and I kept my long-sleeve top on for sun protection rather than for warmth. And this is early February. In the mountains. Above 10,000 feet. I chose this route because Erin was sick over the weekend and told us to ski tour without her. It's a "No Dogs" trail, which means I would never ask Erin to ski it since No Dogs translates into No Banjo – and Banjo is my puppy buddy.
"It's just as well," I muttered to myself as I watched Jeremy make his way up the steepening valley headwall in front of me. The snow was crappy for ski touring and I had already taken Erin on a crappy ski tour the weekend prior (where there wasn't enough snow). Since I convinced her to pick up skiing and sold her my old gear, I feel obligated to show her how awesome it can be on our local trails. Sadly, the conditions have been less than awesome. Like way less than awesome. But I need to give Erin more credit than that. She's thrilled to get outside with Banjo to explore our lovely mountains by ski, no matter the lack of snow or overabundance of wind. Aside from Jeremy, Erin is the only person with whom I regularly hike and ski.
On the car ride home from last week's ski tour, Erin told me she wanted to attempt making meringues. She had heard that our high altitude can cause problems. Was this true? I waved the question away. No, altitude hasn't posed any problems for me. Meringues are easy. But I told her that I've been researching and obsessing over one kind of meringue – all based on a photograph – and I was going to experiment soon. I promised I would report back on my findings. You may or may not have seen the gorgeous giant billowy meringues made famous by Ottolenghi. I've actually been oblivious to them until I recently purchased Ottolenghi: The Cookbook. Flipping through, looking for savory vegetable recipes, an image of those signature meringues piled high on a cake plate grabbed my attention. What? How? I need to – they're so beautiful!

frozen huckleberries, lemon, superfine sugar, more superfine sugar, eggs
egg whites, lemon juice, sugar, sugar, huckleberries
Ottolenghi's raspberry meringues resemble giant dark pink and white variegated roses. I wanted to create those large cloud-like confections, but there were a few issues to address. First off, my meringues always wind up beige instead of white. Second, how does he apply the berry splatter without turning the meringues soggy? Eventually, with the guidance of
this article based on Ottolenghi's technique
and some kitchen testing, I managed to create this obsession I've had for the past few months. For the sauce, I used frozen huckleberries (foraged from this past summer), but you can easily substitute fresh or frozen blueberries, raspberries, strawberries… pick your berry.
Use superfine sugar, because it will incorporate and dissolve into the egg whites faster than larger granules of sugar. Spread the sugar out on a parchment paper-lined rimmed baking sheet. You're going to heat this up in a hot oven until it just starts to melt at the edges. When this happens, start whipping the egg whites in a stand mixer on high speed. You really want to use a stand mixer because these need to be whipped for 10 minutes. My arm hurts just thinking about whipping that by hand. You'll need to move quickly (and carefully) and take the baking sheet out of the oven, lift the parchment (with the sugar) off the pan using oven mitts, and slowly pour the sugar into the whipping egg whites. The directions say not to let the sugar brown in the oven, but mine did a little bit (hey – photographing this stuff makes timing tough). It's okay, but not ideal. I think if the sugar is liquid (hot), you can pour it into the egg whites, but if you have shards of hardened sugar, don't add them to the mixer because they won't dissolve. Also, pour the sugar in on the side of the bowl to avoid any unnecessary excitement. If you pour it directly onto the whisk attachment while it is running, you will have hot sugar flying all over your kitchen.

spread the superfine sugar on a parchment-lined baking sheet
start whipping the egg whites when the sugar begins to melt at the edges
a little too melty, but you get the point
pour the sugar into the egg whites
**Jump for more butter**