Recipe: chicken kebabs
I can still spy snow on the ground across the valley, but the sun has been doing her work in these parts. We have one giant snow bank left in the shadow of our garage. The rest of the yard has thawed and dried, much to Kaweah's exploratory delight. It's beautiful, really. While I was feeling like hell over the weekend, Jeremy cracked a window overnight to let some cool air in. Although my taste is boned from the chemo, my sense of smell is heightened and in my delirious state, the smell of that mountain air calmed me. I love being outside, sleeping in the dirt, smelling the pine forests, walking the hills. It smelled like camping, because we always camp in the mountains – but we live here. Hell yeah.

front yard first blooms: dragon's blood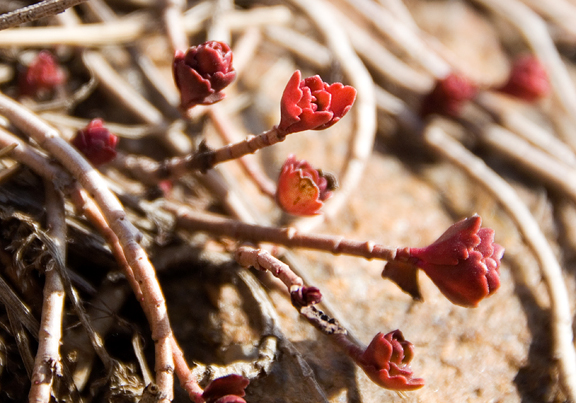 I can tell when I'm on the rebound from a chemo when I start thinking about what to cook next without wanting to hurl. That and I can finally clean out all of the penis-enlargement spam from my in-box…
I'm ready for spring now – or perhaps you'd call it sprummer since spring is more of a concept than a season here. I'm ready! Okay, I *am* holding out for one last storm to blow through here in a week or so if the atmospheric modeler, whose blog I read and worship, is correct (usually is). Haven't put the tele boots away just yet, but I wore shorts yesterday and dusted off my trail runners. Can't wait for the trees in Boulder to start pushing their blossoms out. The forsythia have already begun in earnest. Love to hear the bird songs around our house and watch gem-colored hummingbirds dogfight for territory from our deck. Did I mention the wildflowers? I'll take those understated beauties over a royal botanical garden any day. I look forward to the cleansing effect of our afternoon thunderstorms and the feel of moist ground underfoot that solidifies before sunset each day. There's nothing so soothing as waking before dawn and having that softly lit world all to yourself… unless you were up late admiring the August night sky and the Perseids shower. I've got drupes, berries, herbs, greens, seafood, iced teas, fruity girl cocktails, and grilling on the brain. Oh the grilling… I may be a ski whore, but there is something to love about every season – and I do.

let's begin with some chicken: i like thigh meat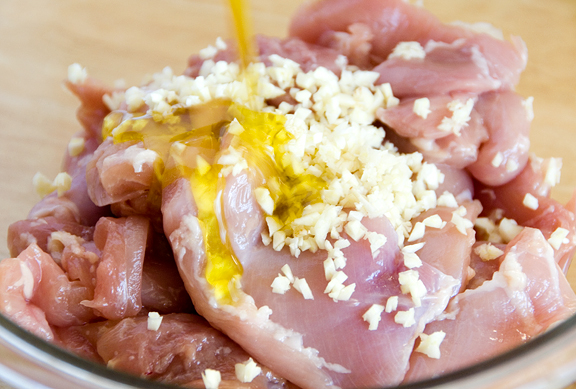 My attitude toward grilling is pretty straightforward: make the food taste Good. There is some crazy notion that men can grill because they are men. I've witnessed far too many men grill as if on a mission to char every ounce of protein within a two foot radius of the fire. [Is this somehow connected to the way men feel compelled to press the call-elevator button again and again, giving me that reassuring "I'll take care of it, Missy" grin when I'm standing there waiting patiently for the elevator I had already called?]
pour in fresh lemon juice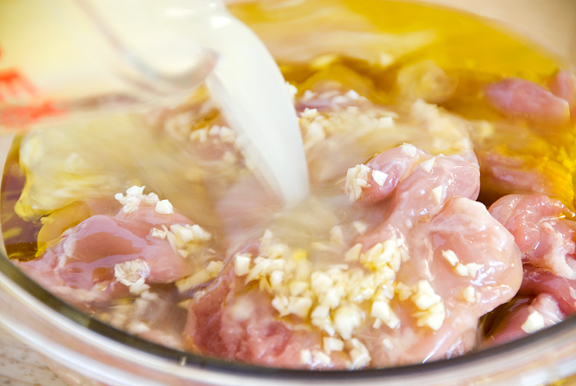 Of course, men who DO know how to cook/grill/bake – well… that's about as hot as a man who can tele like silk in my book ;) Anyway, I think my southern childhood of summer barbecues with leathery, dry chicken breasts off the grill at countless gatherings has turned me off to grilling chicken breasts. I prefer chicken thigh meat and that's what I tend to use for kebabs.
add salt and freshly ground pepper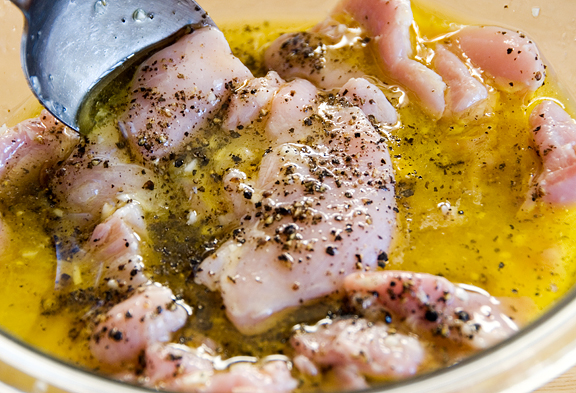 My first true introduction to Middle Eastern food was at Wahib's… Wahib's Middle East Restaurant in Alhambra, California. It got the seal of approval from NASA officials and Jordanian nationals alike (i.e. my old boss). I can't even list all of the foods I fell in love with there, but when we departed for the East Coast to start grad school, I knew I'd have to find my own way without Wahib.
onto the skewers they go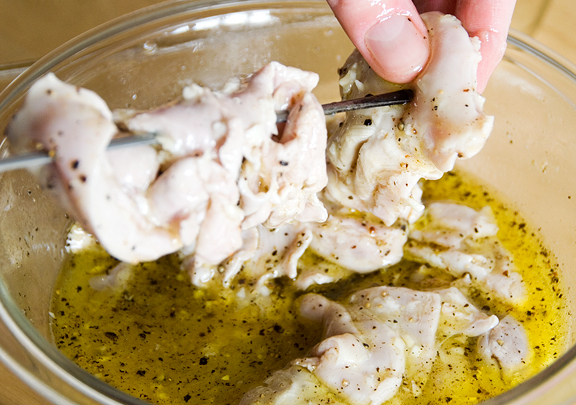 The recipe is uber simple, which is good because I equate grilling with simple. Chicken, garlic, olive oil, lemon juice, salt, and pepper. Dump it in a bag or bowl and marinate. Skewer those babies and grill.
baste and turn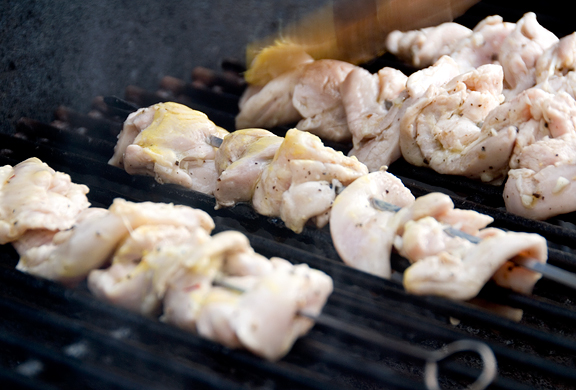 The chicken is great served with a traditional side like saffron rice, but it's also fantastic with grilled vegetables, salads, whatever floats your boat. That's the beauty of the grill… it's all good – just like the seasons.
serve immediately off the grill
Chicken Kebabs
[print recipe]
modified from Middle Eastern Cooking by Christine Osborne
6 tbsps olive oil
6 tbsps lemon juice
2 cloves garlic, crushed
salt
pepper
2 lbs. chicken, cut into good-sized cubes (I prefer thigh meat)
saffron or 1/2 tsp turmeric
1 tbsp butter, melted
Place the first six ingredients together in a ziploc bag. I prefer to let it marinate for a whole day (that's 24 hours), but if you are short on time, the minimum is probably closer to 4 hours. When you are ready to grill the chicken, skewer the pieces, but not too tightly packed (if you use bamboo skewers, be sure to soak them in water for 30 minutes beforehand). Mix the saffron or turmeric into the butter. Grill the chicken on high heat and brush with the butter mixture. I usually forget the butter part and the chicken still tastes fantastic. Remove the chicken from the grill when it is done (cook time will depend on the size of the chicken pieces, but generally it takes us 10-15 minutes). Serve immediately.