Recipe: cranberry sorbet
damn straight i did!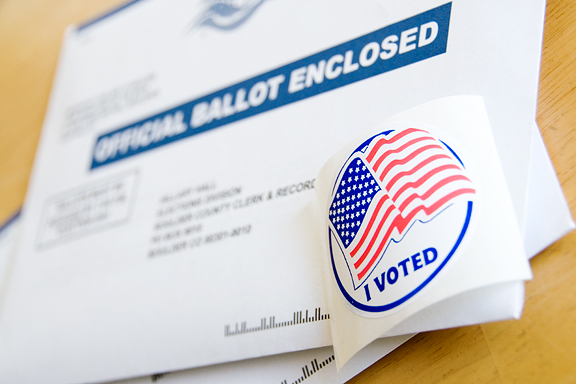 Have you ever begun a recipe with moderate to low expectations only to be completely dazzled by the result? One night while I was falling asleep, an idea popped into my brain and I said aloud, "cranberry sorbet" to no one in particular. I have about a 70% chance of remembering my thoughts the following morning.
gems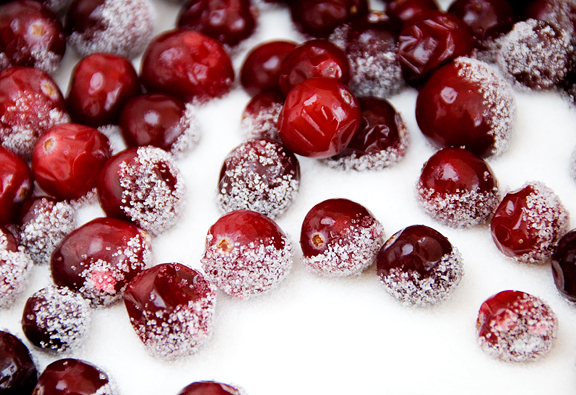 I referred to my trusted copy of
The Perfect Scoop
and sure enough, Mr. Lebovitz had a cranberry-orange sorbet recipe. While I like orange, I don't like it in everything. There are times when orange and I need a break from one another. So I substituted the orange juice with cranberry-raspberry juice and omitted the zest.
steeping the cranberries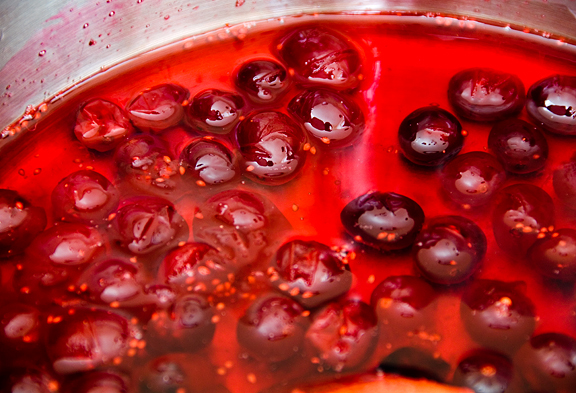 Something I love about cranberries is hearing them pop when you boil them. *pop* *pop* *pop* When making this recipe, I highly recommend not wearing anything white, or at least not wearing anything that you want to keep clean… or maybe I'm just a slob? The best part of the entire process was getting to use my wonderful, lovely, totally awesome food mill (thanks, Perez!). If you have ever pressed a berry purée through a sieve, that is one time too many. Get ye a food mill! Cleanup is 100 times easier, the food mill is more versatile, it is less messy than a sieve, the yield is much higher, and my cussing decreases substantially.
pass through the lovely food mill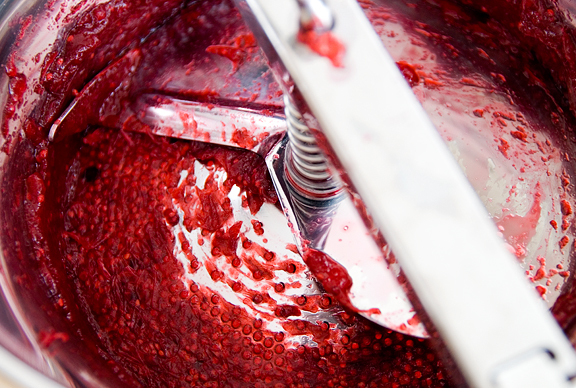 While I was tempted to go pure cranberry juice, I decided on the cranberry-raspberry juice blend instead. Nothing special, just juice from frozen concentrate. It's slightly less bitter than all cranberry.
pour the juice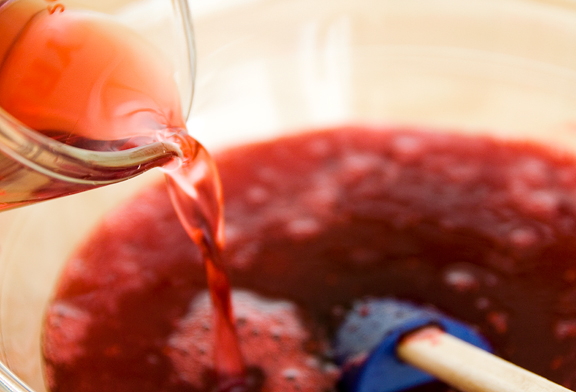 The only goof I made (and some might not consider it as such) was adding two
tablespoons
of Grand Marnier instead of 2
teaspoons
. I'm such a booze hound, ya know…
add grand marnier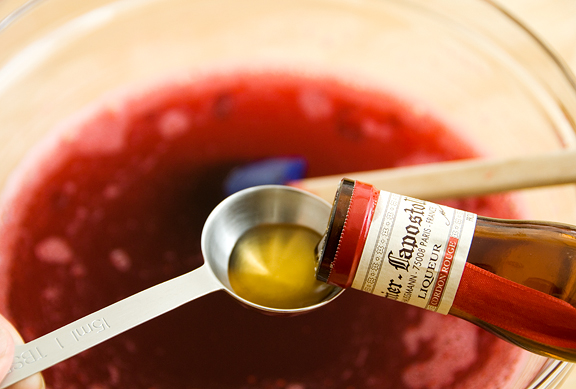 When the sorbet came out of the ice cream machine, it was pretty smooth for homemade sorbet. But when I tasted it – WOW! Out.of.this.world. I like cranberry, but I *love* this cranberry sorbet. Even Jeremy, who is lukewarm to cranberries, was loving this sorbet. That's a huge victory for me because I can't do dairy (and my ass thanks my GI tract for its intolerance of ice cream), but I love me a fruity sorbet. I have a new favorite in my freezer.
fall and summer in a cranberry sorbet
Cranberry Sorbet
[print recipe]
adapted from Cranberry-Orange Sorbet in The Perfect Scoop by David Lebovitz
1 1/2 cups cranberries, fresh or frozen
1 cup water
3/4 cup sugar
1 1/2 cups cranberry-raspberry juice
2 tsps Grand Marnier (optional)
Heat cranberries, water, and sugar in a medium nonreactive saucepan until liquid begins to boil. Let boil for 1 minute then remove from heat and cover. Let stand for 30 minutes. Pass the cranberries and their liquid through a food mill fitted with a fine disk, or purée them in a blender or food procesor and then press through a sieve to remove any large bits of cranberry skin. Stir in the juice and the liqueur. Chill the mixture thoroughly, then freeze it in your ice cream maker according to the manufacturer's instructions. Makes about 1 quart.