Recipe: roasted pepper, prosciutto, and goat cheese tart
Flowers are blooming down in Boulder. That is typical for this time of year. The tulips are on grand display on Pearl Street right now. So many colors and varieties. I went back to catch some in the rain Sunday evening.

but how do they keep the deer away?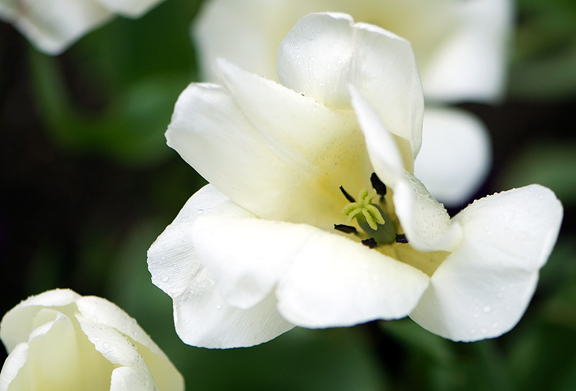 love this purple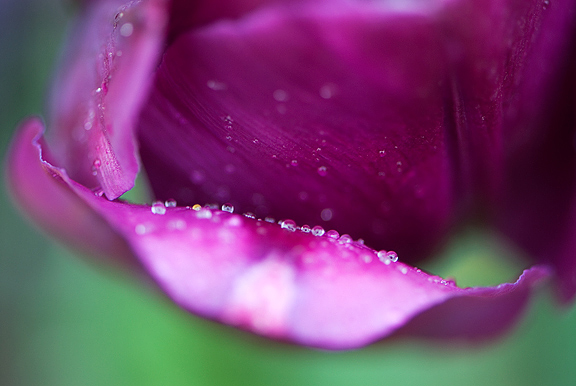 The tulips are no surprise. I'll tell you what was a surprise… last Tuesday, Jeremy and I took Kaweah on a walk and scoped for flowers. None. Still early. On Saturday, we did the same walk in the rain and found
the first pasque flowers
emerging from the pine litter. They always bloom first up here, and they are a curious flower – short, low to the ground, but the flower itself is quite large and pretty neat. Thus we begin the start of the wildflower season!
a few days old, tops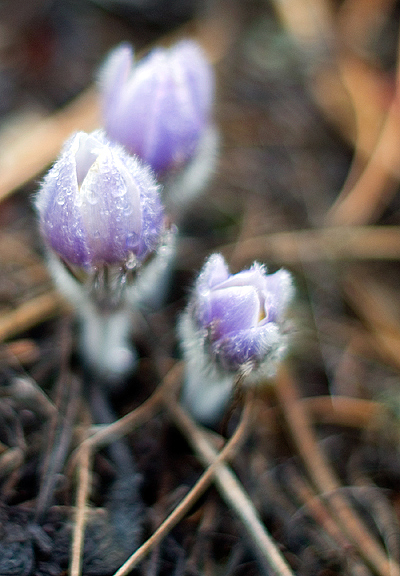 Despite the rain and snow (yup, still getting snow), we got ants in the pants this weekend and had to get outside to assess the
backcountry conditions
. Into the local mountains we went. We were greeted with sun, lots of snow on the ground, and snow falling from the sky while clouds raced past overhead. The alpine lakes are beginning to thaw.
kaweah had loads of fun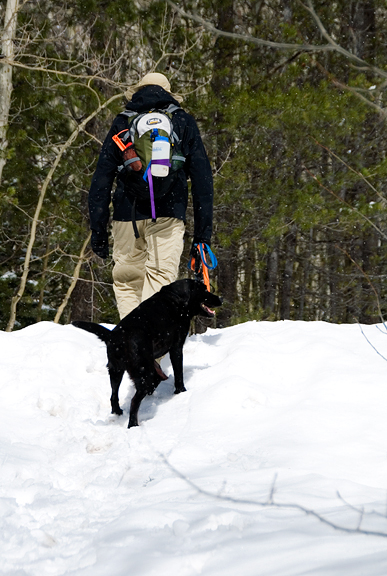 Not all of my recent discoveries were outside. I happened upon one in the kitchen too. A month ago, I decided to flip through my library of Fine Cooking issues (I have them
all
except #1, because Rich Chin borrowed it and NEVER GAVE IT BACK – you twerp!) and hunt for interesting recipes to try. I compiled a sizable list and began tackling a couple each week. Did you hear me whoop and holler last week when I tasted this one fresh out of the oven?
press the crust dough into a tart pan with removable bottom
bake the shell
What drew me to the recipe was the goat cheese. I quite love goat cheese and that might be because it doesn't fight with my GI system the way dairy does. Or it might be because it is delicious. What really won me over were the…
peppers
beautiful, roasted peppers
peel the skins (super easy!)
Instead of charring the peppers over the grill (or worse, your stove), you can roast them for a really sweet and intense pepper flavor in your oven. I considered grilling them until I read somewhere that oven-roasting actually yields a lovely texture and flavor. Why not? It was quite easy to do. I'm glad I roasted all six peppers because I have enough leftover to make a second tart this week.
thinly sliced onions
sauté with spices until golden brown
Once the onions were done, I mixed them with the peppers, cheese, prosciutto, basil, and thyme. It smelled so good already – a heady mixture.
a lovely combination
sprinkle goat cheese
Because I tossed in 25% more of some ingredients than called for (peppers, cheese, prosciutto – come on, you'd do it too), I had enough filling and crust dough leftover for an additional 4-inch tart. What I need is to get a taller tart pan so I can stuff it full of this amazing goodness.
pouring the egg and cream mixture over the tart
a little savory tart
It's probably a good idea to place the tart pans on a baking sheet when they bake in the oven unless you enjoy scrubbing burnt and hardened goo off the bottom of the oven. The tarts baked up perfectly. And here is the kicker – Jeremy, who is no fan of bell peppers, onions, or goat cheese, LOVED this tart. He had seconds at dinner, then took the leftovers for lunch
twice
. This can easily be made vegetarian by omitting the prosciutto (I know, unthinkable!). It would be great to serve for any meal, not just dinner. I'm adding it to my list of goto entertaining recipes too – it is THAT good. Now go make this for yourself. You deserve it.
an incredible marriage of fresh flavors
dig in
Oven-Roasted Pepper Tart with Prosciutto and Goat Cheese
[print recipe]
from Fine Cooking issue #93
shell
7 oz. (1 1/2 cups) all-purpose flour
1/2 tsp kosher salt
4 oz. unsalted butter, cold and cut into 1/2-inch pieces
1 large egg yolk
filling
2 medium red or orange bell peppers
2 tbsps extra-virgin olive oil
1 medium yellow onion, thinly sliced
1 tbsp fresh thyme, coarsely chopped
kosher salt
freshly ground black pepper
1 cup heavy cream
2 eggs
2 thin slices prosciutto, cut into thin strips
6 large basil leaves, chopped
1 tbsp Parmigiano-Reggiano, finely grated
1/3 cup crumbled goat cheese
Tart shell: Combine the flour and salt in a large bowl and cut the butter in with a pastry cutter until it resembles coarse crumbs. In a separate bowl, lightly beat the egg yolk and two tablespoons of water together. Pour this over the flour mixture, stirring it in with a fork until well incorporated. Stir in a few more tablespoons of water (one tbsp at a time) until the dough begins to clump. Invert the contents onto a work surface and press the it all together into a disk. Wrap it in plastic wrap and chill for a minimum of an hour. When ready to use, roll the cold dough on a floured work surface to about 3/16-inch thickness and a 12-13 inch diameter (round). Line the tart pan with the dough without stretching it, but pressing it gently into the shape. Trim the excess dough by rolling the rolling pin over the edge of the pan. Wrap the pan and dough in plastic and freeze for 30 minutes. Preheat the oven to 375°F with a rack in the middle of the oven. Line the tart dough with foil and weight it with dried beans or pie weights. Don't wrap the foil over the edges, instead let them stand up so as to let the edges brown. Bake until the edges are light and golden, about 30 minutes. Remove the foil (with the beans or weights) and continue to bake for another 10 minutes until it turns golden. Press down any domes in the surface before allowing the crust to cool completely.
Roast the peppers: Heat the oven to 400°F with the rack in the center. Place bell peppers on a rimmed baking sheet (I lined mine with foil) and roast from 45 to 60 minutes, turning the peppers every 15 minutes until they are wrinkled. Remove from the oven and place a dishtowel over them so they can sweat. When the peppers have cooled, the skins should be easy to remove. Peel, core, and de-seed the peppers and then cut them into strips.
The filling: Heat the olive oil in a large frying pan over medium heat. Sauté the onions, 1/2 teaspoon salt, 1/4 teaspoon pepper, and half of the thyme. Stir often until the onions become soft and golden brown (about 15 minutes, but it took me 10 – perhaps because I had my flame on high…) Remove from heat and let cool. In a small bowl, whisk the eggs and cream together. Season with 1/4 teaspoon of salt and 1/4 teaspoon of pepper. In a large bowl, combine the peppers, onions, prosciutto, basil, grated cheese, and remaining thyme until well mixed.
Assembly: Set the tartshell (in pan) on a baking sheet and fill it with the pepper mixture. Sprinkle the goat cheese over the filling and then pour the egg mixture over everything until the pastry is full (there may be excess – I had 1/2 cup extra). Bake for about 30 to 35 minutes at 375°F or until the custard is set. Cool on a rack and serve warm or at room temperature.