Recipe: sichuan pork wontons
When the weekend started, I wasn't sure how things were going to pan out. We always have a plan in place – usually a form of weather-dependent exercise, lofty goals to clean some part of the house, and work. Because it has been so disturbingly warm, my usual ski tour with Erin turned into a snirt (snow/dirt) hike. Making our way up the ice-slicked trail, we agreed that despite the suckage of the snow conditions, it was nice to get outside. Banjo agreed. Before we set off in the morning, he spun about in dizzying white fluffy circles on the mudroom floor, filled with giddy anticipation of the adventure to come. Happy dogs can't lie.

my weekly date with erin and banjo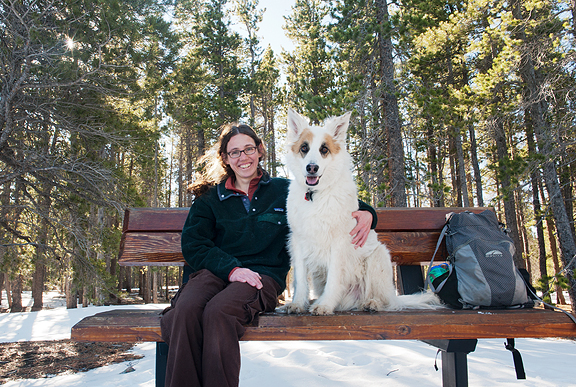 such a good boy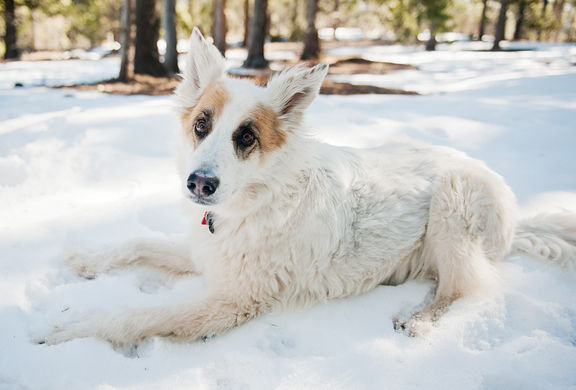 The dearth of snowfall this season didn't deter me and Jeremy from nabbing some new fat skis on super sale recently. We took them into town for binding mounts and new ski prep. Picking the skis up from the mountaineering store, I signed the credit card receipt and smiled at the cashier, "Do your snow dance!" and stepped outside into 65°F and bright sun. The forecast was sunshine and warmth until Sunday, when we would get some snow. We weren't sure how much. It could go either way.
my new (very fun) skis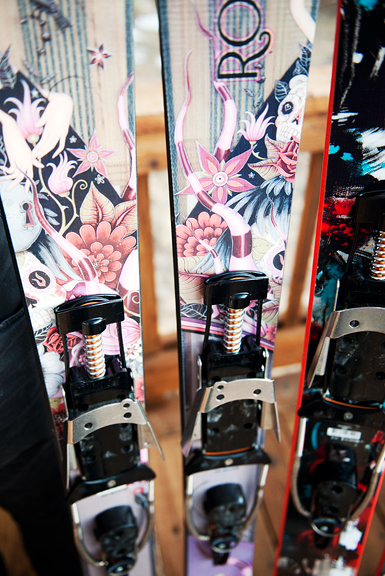 the start of something beautiful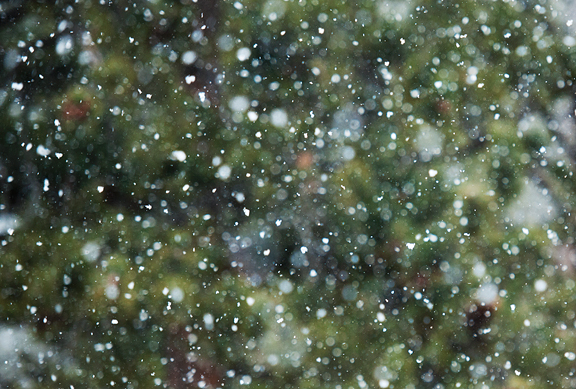 15 inches of fresh powder monday morning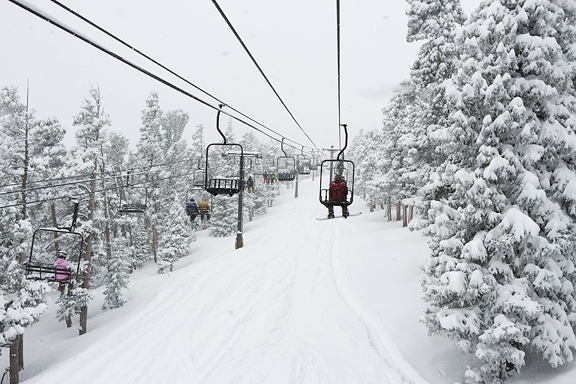 But before the snow would come, we took a day – Valentine's Day – to drive two and a half hours south onto the flats. You know it has to be something important to make us leave the mountains on a weekend. This was very important. We spent 30 minutes meeting several very sweet dogs. If all goes well, we'll be filling that dog-shaped hole in our hearts with a puppy in early May.
On the return drive home, we passed through Denver where I stopped by the big Asian grocery store (HMart) to get ingredients for our traditional Chinese New Year feast. I try to stick to my grocery list, but as I walked the aisles packed to the hilt with all manner of sauces, vegetables, frozen foods, and pickled things, I started cobbling together our weekly menu as well. We hadn't had wontons in a while, and there was a Sichuan wonton recipe waiting in the wings. The first step is to make the Sichuan red chile oil.

chiles de árbol, canola oil, soy sauce, salt, sichuan peppercorns, star anise, garlic, cinnamon, black cardamom, cloves, bay leaf, ginger
smashing things: cinnamon, garlic, ginger
combine the oil, garlic, ginger, bay leaf, cloves, anise, cardamom, and cinnamon
heat until the garlic is golden (mine was a little more than golden)
When most people think of Sichuan, they think of spicy. But Sichuan peppercorns aren't really spicy hot so much as numbing and citrusy in flavor. The hot comes from the dried chiles, although mine wasn't nearly as hot as I had expected it to be. It's possible that my chiles were milder than most (I bought them from a spice shop and not from the Asian grocery).
chop the chiles
place the chiles, sichuan peppercorns, salt, and soy sauce in a jar
pour the hot oil into the jar
let the oil cool
remove the ginger and garlic
let the oil sit for 24 hours
When the oil is ready, strain all of the spices out. The recipe says it can be sealed and stored in a refrigerator for up to 3 months. I halved the recipe because things that get lost in the back of the refrigerator don't get unearthed for a while. Making the wontons is quick work because I buy wonton wrappers and this filling takes minutes to mix together.
black vinegar, shaoxing wine, soy sauce, (dry) sherry, ground pork, wonton wrappers, sichuan red chile oil, salt, garlic, egg, cornstarch, ginger
mince the ginger and garlic
the filling: pork, ginger, garlic, cornstarch, (dry) sherry, soy sauce, shaoxing wine
mix it all together
Wonton assembly is far easier than folding the pretty pleats on
Chinese dumplings and potstickers
. It's like origami for dummies, but delicious! Start with a wonton wrapper and place a small amount of filling in the center. The recipe calls for 1 teaspoon of filling and my mom would like to point out that authentic Sichuan wontons should have even less filling than that (because people in the Sichuan region were poor and couldn't afford much meat – so you were supposed to fill up on wonton dough). Either way, don't overfill your wonton because it makes folding and getting a good seal difficult… and it might explode (pop open) when you cook them. Use egg or water to glue the edges together into a triangle, then fold the little arms of the triangle over one another (seal with more egg or water).
ready to make wontons: filling, wonton wrappers, egg
brush egg on two adjacent edges
fold into a triangle (sealing the edges)
fold two corners together
While you are folding the wontons, bring a large pot of water to a boil. When the wontons are ready, drop them into the boiling water. They only take a few minutes (5-7) to cook and are nominally done when they float to the top. Scoop the wontons out with a slotted spoon and set them on paper towels to drain for no more than a minute. Don't let them sit for too long, because they will stick to one another as they dry out. Place the hot wontons in a large bowl and toss them with black vinegar (Chinkiang) and the Sichuan red chile oil. I personally like a good bit of black vinegar, so adjust the amount according to your tastes.
lined up
geronimo!
remove from the pot
drain briefly
dress with black vinegar and sichuan red chile oil
Wontons symbolize new beginnings for Chinese New Year, but regardless of meaning, these are so satisfying to eat on a cold day. My chile oil was not that spicy, but the numbing effect of the Sichuan peppercorns does build the more you eat. I made a second batch of wontons with pork and shrimp (replace half of the pork with chopped up raw, peeled shrimp) which was also fantastic. If you want to make these ahead, freeze the uncooked wontons on a baking sheet and then bag them up when the wontons are hard. Boil them straight from the freezer, but give them more time to ensure the centers are cooked through (test one to be sure). So here's to new beginnings and a Happy New Year!
serve as an appetizer or a meal
garnish with sliced chile and chinese chives
enjoy!
Sichuan Pork Wontons
[print recipe]
from Saveur
1 lb. ground pork
2 tbsps cornstarch
4 tsps dry sherry
4 tsps light soy sauce
2 tsps Chinese rice wine (Shaoxing wine)
3 cloves garlic, minced
2 1/2 inch piece of ginger, peeled and minced
40 square wonton wrappers
1 egg, beaten
kosher salt to taste
1/2 cup Sichuan red chile oil (see recipe below)
2 tbsps Chinese black vinegar (Chinkiang), or more – I like a lot more
sichuan red chile oil
1 cup canola oil
2 whole star anise
2 small cloves garlic, smashed
2 small black cardamom pods
2 whole cloves
1 bay leaf
1 small cinnamon stick, broken in half
1 1/2 inch piece of ginger, smashed
1/2 cup chiles de árbol, stemmed and chopped
1 1/2 tbsps Sichuan peppercorns
1/2 tbsp soy sauce
1/2 tsp kosher salt
Make the Sichuan red chile oil: In a 2-quart saucepan, heat the canola oil, star anise, garlic, cardamom, cloves, bay leaf, cinnamon stick, and ginger over medium-low flame until the garlic turns golden (about 15-20 minutes). Place the chiles, Sichuan peppercorns, soy sauce, and salt in a 1-pint glass jar. Pour the oil and all of the contents in the saucepan into the jar. Let the oil cool to room temperature, then remove the garlic and ginger. Seal the jar and let it sit for 24 hours. Strain the oil and discard any solids. Store in the refrigerator for up to 3 months. Makes about a cup.
Make the wontons: Mix the ground pork, cornstarch, dry sherry, soy sauce, Shaoxing wine, garlic, and ginger together in a medium or large mixing bowl. Place a teaspoon of the pork filling in the center of a wonton wrapper. Brush egg wash on the top two adjacent edges of the wonton wrapper (same side that has the pork). Fold the bottom two edges up to match the top two edges and form a triangle while pressing the edges together to seal the wonton (push any air pockets out from the center). Fold the two side corners of the wonton in toward the center and use a little egg wash to secure them together (like crossing arms). Pinch the corners together. Repeat for the remaining wontons.
Bring a large pot of water to a boil. Drop the wontons into the boiling water and let boil for 5-7 minutes. You may have to do this in two batches if your pot of water isn't large enough. When the wontons float to the top, remove them with a slotted spoon to drain on paper towels. Place the wontons in a large bowl and pour the chile oil and black vinegar over top. Toss to coat and serve immediately. Serves 4-6.

more goodness from the use real butter archives