Recipe: fried brussels sprouts with fish sauce vinaigrette
I don't do well with hot weather, and it has been stupidly hot here this last week. Thankfully the smoke from Western wildfires has been on leave for much of this heat wave so we can at least do things outside (although it returned just yesterday). We've been waiting all summer for an evening that was smoke-free enough to camp on our deck with the pups. Neva is fairly comfortable with the tent, but Yuki was a newbie. At first she wouldn't get in, but Jeremy called Neva over and as soon as Neva set foot in the tent, Yuki dove in after her. They loved it – woofing at things in the night, sniffing all of the smells on the air, walking on us in the darkness, and curling up on our puffy down sleeping bags. The humans got very little sleep, but that was to be expected. The jury is out if we think we can take this show into the backcountry. I mean, I'm sure the pups will be delighted and we will be exhausted – I guess that's how it goes when you have dogs (or children from what I hear)!

wingus and dingus in the tent on the deck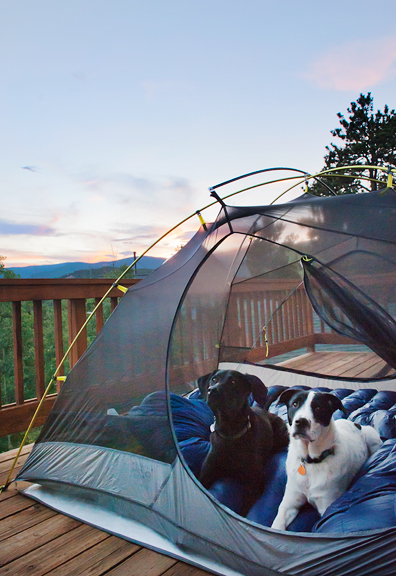 swimming in alpine lakes to cool off in the late summer heat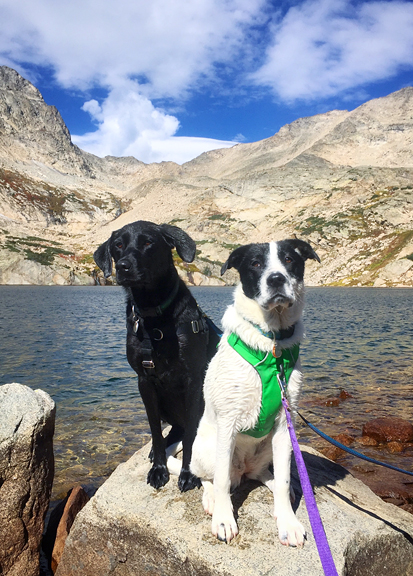 finally, some clouds and a lovely sunset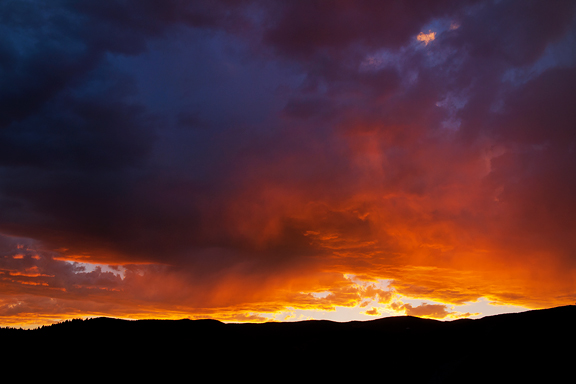 Friday was Jeremy's birthday and we spent the evening sharing a nice home-cooked meal and homemade birthday cake. My parents have taken to keeping their birthday celebrations low-key because they think big celebrations attract too much attention and bad luck (i.e. death or no more birthdays). We keep it low-key because that's how we roll. No big birthday celebration. No birthday month. No birthday gifts or cards. No pressure or stress. Just us and the pups. It's nice like that.
a 6-inch 3-layer chocolate hazelnut raspberry cake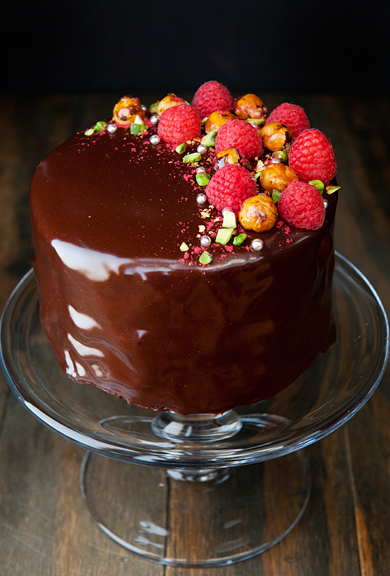 chocolate hazelnut chiffon alternating with chocolate mousse and raspberries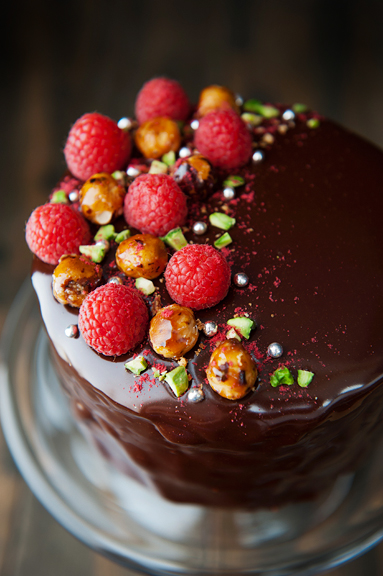 finished in a chocolate mirror glaze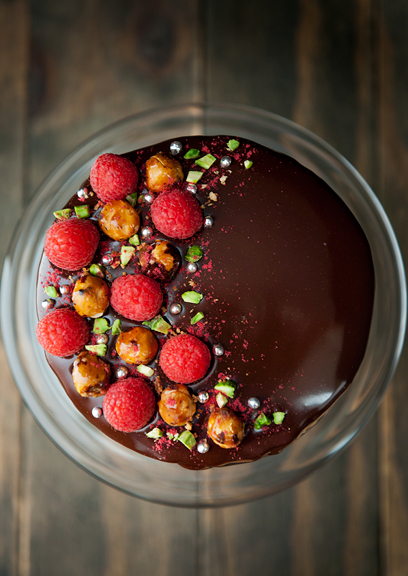 Over the past several years, I've had the pleasure of ordering Brussels sprouts at various dining establishments. They're almost always delicious and the question among the diners usually comes down to "Are they fried or are they roasted?" I've roasted my fair share of Brussels sprouts because it's one of our favorite vegetable dishes in winter, so I was pretty certain they were fried and not roasted. The question was finally put to rest this past week when I set about frying a batch of Brussels sprouts à la Momofuku (David Chang) tossed with a fish sauce vinaigrette. It's simple, addictively good, and it might be the thing that converts the Brussels sprouts haters in the world.
fish sauce, rice vinegar, shallots, lime, thai chili, glaric, water, sugar, brussels sprouts, togarashi
I changed David's recipe a bit by omitting the mint and cilantro, and adding fried shallots. If we've got hot oil for frying the Brussels sprouts, we may as well fry some shallots. When prepping the sprouts, peel away the outer leaves if they're discolored or if they are bugged out. I worried that peeling too many leaves wouldn't result in the fluffy delicate layers I've experienced in restaurants. Not to worry. When the sprouts go into the hot oil, they will fluff and puff into crisp delectable airy vegetable goodness.
minced garlic, sliced chili, sliced shallots, juiced lime
peel and slice the brussels sprouts
The fish sauce vinaigrette mixes up in seconds. Just stir until the sugar is completely dissolved. You can temper the strength of the vinaigrette by diluting with more water. If you prefer a spicy fish sauce vinaigrette, leave the seeds in when you slice the chili or add another chili. Otherwise lose the seeds. Once the sauce is made, it can be stored in the refrigerator for up to a week. The original recipe makes a cup of the vinaigrette, but I halved the recipe below because it's way more than you need for the 2 pounds of Brussels sprouts.
prepped
pour the lime, vinegar, water, and fish sauce into the sugar, garlic, and chili
stir until sugar is dissolved
Deep frying still scares the bejeezus out of me, but after so many years of yelps and screams when hot oil pops and splatters at my face and arms, I've discovered some really helpful tools. The first is the splatter screen. It blocks 99% of the splatters coming out of the pot AND it reduces the oil splatter I have to clean up afterward. The second is the spider strainer (pictured below) which I bought in an Asian grocery store for $4. It does a fine job of scooping fried things from hot oil as well as lowering non-battered items into the oil. Game changer. Fry the Brussels sprouts in batches because if you attempt to cook it all at once, the oil temperature will drop too low to fry much of anything. Heat capacity, folks. When the sprouts hit the oil, it will sound like an eruption on your stove. The commotion will die down after a few minutes, and when the sprouts are more brown than green, you can scoop them out to drain on paper towels. I wait to add the next batch until the oil has reached the original start temperature.
lower the sprouts into the hot oil
frying
draining
frying teh shallots
When the sprouts and shallots are done, place them in a large bowl and toss with a little dressing. I've done half of the batch here because I knew we couldn't finish four servings. If you know you won't be serving it all right away, don't dress the sprouts that you aren't serving. It just makes them soggy and sad. Instead, store the fried sprouts in the refrigerator, then reheat them in the oven for 5-8 minutes until they have re-crisped, at which point you can toss them with the dressing. Don't use all of the dressing at once. It will be too much. Add a few spoonfuls, toss, taste, then adjust dressing accordingly.
pour a little dressing over the fried brussels sprouts
toss to coat
Now that I've fried Brussels sprouts, I know for a fact that all of those amazing Brussels sprouts dishes were FRIED. Of course they were! That's not to say you can't roast them. You can absolutely roast the sprouts instead of frying. I included instructions for the roasted version, too. It won't be the same as fried, but you already knew that, right? Fried Brussels sprouts have that sweet, nutty flavor and a crisp, light, crunchy texture. The fish sauce vinaigrette adds a punch of umami, tartness, sweetness, and heat. I completely forgot to add the togarashi here (I was too excited to dig into the Brussels sprouts), but I could go either way with or without it. It's good, but it isn't necessary. Since I try not to fry too many things, this is a dish I'd reserve for entertaining or special occasions when you want that extra something in your Brussels sprouts. They are dangerously addictive. You have been warned.
serve immediately after tossing with dressing
brussels sprouts game changer
Fried Brussels Sprouts with Fish Sauce Vinaigrette
[print recipe]
modified from Momofuku
2 lbs. Brussels sprouts
oil for frying (something flavorless like canola)
4 shallots, peeled and sliced 1/4-inch thick (optional)
fish sauce vinaigrette (see below)
togarashi (I forgot to add it, but it's great for a spicy kick)
fish sauce vinaigrette
1/4 cup fish sauce
2 tbsps water
1 tbsp rice vinegar
1 tbsp lime juice
2 tbsps sugar
1 small garlic clove, minced
1 small red Thai chili, thinly sliced (remove seeds for less heat)
Make the fish sauce vinaigrette: Mix all of the ingredients in a jar. Makes 1/2 cup. Stores for up to a week in the refrigerator.
Prepare the Brussels sprouts: Heat 1 1/2 inches of oil in a large pot (I use a stock pot to contain the splatter) to 375°F. Trim the base of each Brussels sprout and peel away any unwanted outer leaves. Slice each sprout in half through the base. Working in batches (I fried mine in 3 batches), fry the Brussels sprouts in the oil for about 5 minutes until the outer leaves are browned and crisp. I lower mine into the hot oil with an Asian spider skimmer and use a splatter screen to cover the pan while the sprouts sizzle and pop and expand. I fish them out of the oil with the spider skimmer and let them drain on paper towels. Repeat until all of the Brussels sprouts are fried.
Fry the shallots: Drop the shallots into the hot oil and let them fry to desired doneness. I like mine browned with a hint of the purple color. Remove from oil to paper towels to drain.
Assemble the dish: Place the Brussels sprouts and shallots in a large bowl. Drizzle a few spoonfuls of the fish sauce vinaigrette over the sprouts and toss to coat. Taste. Add more dressing as desired. Season with togarashi. Serves 4-8.
*You could roast the Brussels sprouts instead of frying, but it's not the same. David Chang says to preheat the oven to 400°F. Heat 2 tablespoons of grapeseed oil in a 12-inch to 14-inch wide oven-proof skillet (or a 3-quart sauté pan) over medium heat on your stove. When the oil is hot, place the sprouts cut-side down and let cook until they start to brown. At this point, move the pan to the oven. Roast for 15 minutes or until the sprouts are tender (but not soft). Toss with vinaigrette and season with togarashi.
more goodness from the use real butter archives