Tuesday, June 19th, 2018

Recipe: sourdough pizza
The pine pollen apocalypse ended last week, giving way to smoke from distant wildfires burning in and around our beautiful state. We swept and vacuumed and air-purified the house to keep the allergens at bay, cautiously taking advantage of short windows of clear air (still smelled smokey) to get outside. It was a chance to let Neva get some leash training on her hike and to stretch her swimming legs once again after a long crappy (i.e. low snow) winter. My parents arrived in Boulder for the summer, too, which meant shuttling about on the flats and getting them settled in. Over the weekend, remnants from Hurricane Bud in the west pushed through Colorado and brought us our hoped-for rainy relief.

the colorado high country: our happy place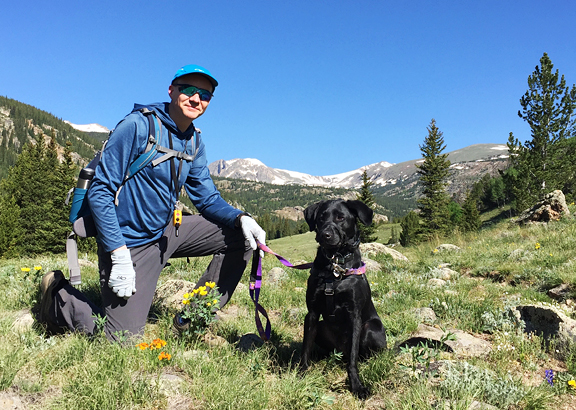 the parental units at happy hour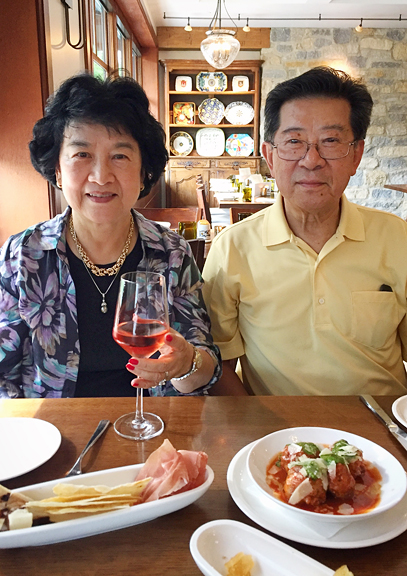 on the road to crested butte: neva is getting better about car rides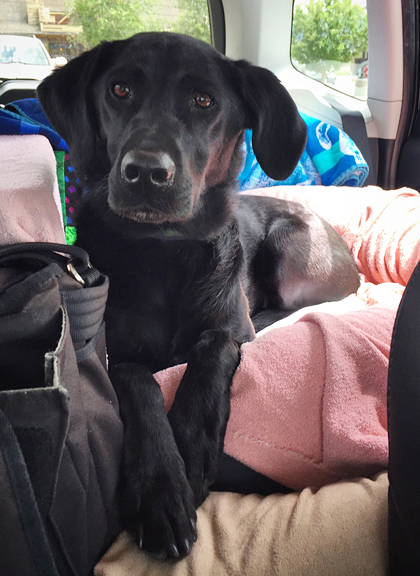 As the weather heats up, I tend to avoid baking. That means my sourdough starter, Wheatley, gets fed once a week and chills out in the refrigerator for long stretches of time. But I woke Wheatley from his slumber last week to bake an épi de blé sourdough baguette for my parents. And then I thought – why not keep the starter out so I can make some pizza? We grill our pizzas on a stone, so it's not going to heat up the house. Pizza is perfect food for any weather, any season. I used to make pizza dough using
this wonderful recipe
, but since acquiring a sourdough starter from my professional pizzaiola friend (Dawn), I knew the switch to sourdough pizza was inevitable. I started in the spring with great results.
it snowed, we grilled pizza, neva was impressed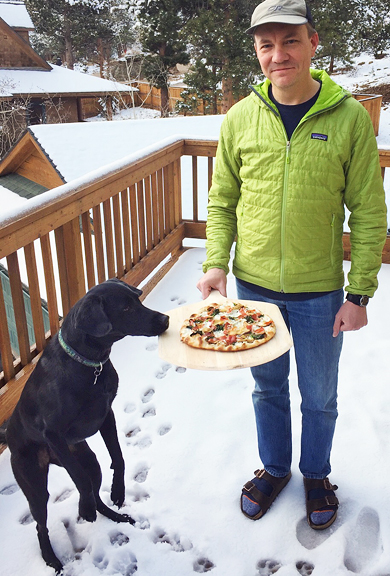 This pizza dough is flour, water, and salt. The commercial yeast pizza dough recipe I used to use also had olive oil in it, but after discussion with Dawn and my own testing, this sourdough pizza dough doesn't really need it. The levain is sourdough starter, and if you are the kind of person who keeps your starter going on the counter and makes large amounts, then it's no big deal to scoop what you need out of the starter to make your pizza dough. I'm not that kind of person, so I calculate the amount of levain I need and measure out how much to feed my starter. Just take care that you remember to reserve some starter that isn't going into the pizza dough or else you, Sad Panda, won't have any more sourdough starter. As for the flours, you can use all-purpose flour, bread flour, or a combination of the two (which I did here).
levain, bread flour, all-purpose flour, water, sea salt
weigh the levain
dissolve the levain in water
roughly stir in the salt and flours
**Jump for more butter**