Wednesday, August 21st, 2013

Recipe: green chile sauce
Spring cleaning never happens as it should in the springtime, because I'm busy skiing. Neglected sections of the house are taken care of in fits and spurts of inspiration or at the breaking point of tolerance. Our microwave handle broke off last winter, so we've managed by pushing the door up and out without a handle. The gutters need cleaning. Obsolete electronics, #6 styrofoam pieces, and used cooking oil all await the day they will be driven to Boulder to be responsibly recycled. Oh, but I cleaned my refrigerator and freezer this week. That is like a Christmas horror movie of sorts… finding forgotten gems and then finding the REALLY forgotten gems that have evolved hair and legs and personalities of their own. All this to tell you that I unearthed a jar of matcha green tea powder in the freezer. It's a lovely shade of green and has a wonderfully nutty herbal aroma. It was buried behind the frozen passion fruit pulp and hunks of frozen Virginia ham. I intended to use this instead of the old, tired, faded matcha that was in the cupboards – the one that I used in the green tea crème brûlée recipe. So, sorry about that.
In other news, Kaweah is back to her quirky self aside from what I call her random hot flashes. I think one of the meds gets her pretty hopped up such that she experiences panting episodes from time to time. She behaves the same way when there is raw beef in the kitchen (or anywhere, really).

kaweah checks out the dinner table to see what's what
Passing storms are a regular occurrence around here in summer and early fall. With our big sky views, we usually see sunshine and rain simultaneously… and that can mean rainbows. I caught this one a couple of weeks ago in Crested Butte that I forgot to share. I swear I've seen more rainbows in Crested Butte than anyplace else.
the sky looked like it was glowing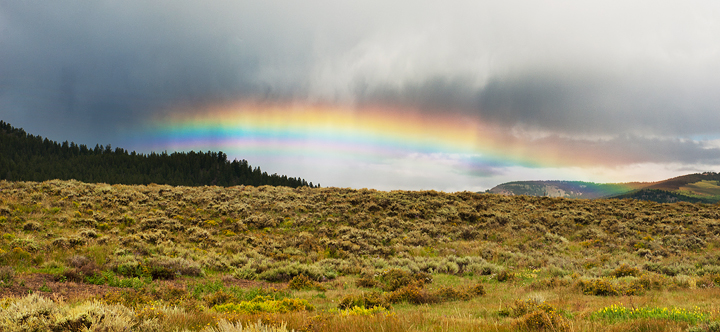 The end of summer becomes of frenzy of favorites. Our local tomatoes are at their peak and the freestone varieties of Colorado peaches arrive at the farmer's market. I can't get enough of the sweet corn ears from Olathe, Colorado. For the past few years, Hatch green chiles have found their way from New Mexico into our markets and of course, our hearts (and mouths). It's to the point where I am turning down offers from various family members to score me several pounds of roasted New Mexico green chiles because I can pick the fresh ones and roast them myself each August. We love them on
burgers
, in
stews
, on
pizza
, and in
sandwiches
, and so much more.
my first batch of the season
roasting to char the skins
**Jump for more butter**