Sunday, November 29th, 2015

Recipe: no-cook pizza sauce
Are you done with turkey yet? Everywhere I looked on my various feeds, I saw turkeys, turkeys, and more turkeys until I shut my laptop and walked outside when I couldn't handle anymore virtual turkey. I used to feel a teeny tiny nagging guilt in the back of my mind over Thanksgiving because Jeremy and I are so irreverent when it comes to these cold weather holidays. It is a particularly good weekend to go backpacking with Jeremy or night-fishing with Dad. But this year, I was reminded of why I skip the bird… because my parents never really cared for turkey either. I mean, Dad banned turkey on Thanksgiving after the last kid (me) left for college. This year, my folks spent the entire holiday traveling home from Australia. I think if Kris were alive, they would have made the holiday a big deal just for her and her family. She was the only one who truly loved the whole Thanksgiving spread. The rest of us preferred Virginia ham, crab legs, Chinese-style fish, or Dad's bouillabaisse. My immigrant parents used to set a rather impressive feast year after year so that my sister would never have to feel the burning embarassment of being the only kid in her kindergarten who had Peking duck for Thanksgiving instead of turkey.

we grilled steaks for thanksgiving, of which neva was accutely aware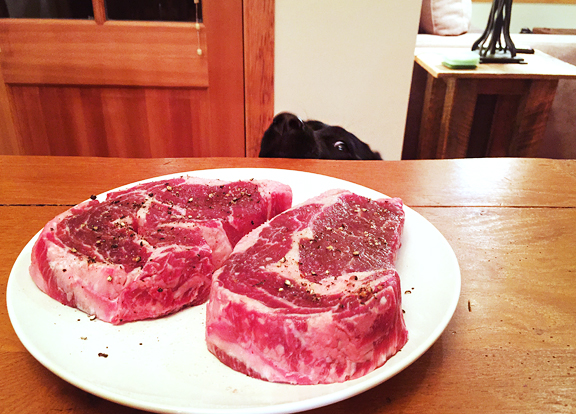 Jeremy and I kept the holiday low-key as we both needed a little decompression time after several hectic weeks of work. Our five hour drive home from Crested Butte was much mellower than the drive out because we had Neva on some new meds for her car sickness. Part of the problem was that she would psyche herself out the moment she saw the car and begin drooling uncontrollably. I think the stress added to the pukiness she was already feeling from the car ride. We asked Doc Newton to prescribe an antiemetic that also made her drowsy – just for the long car rides. She didn't drool much and slept most of the way, but was happy to hop out for a walk and potty at the three hour mark. I sat in the back with her to rub her ears (it comforts her) and to catch any puke-isodes, but there weren't any (yay!). Once home, we resumed her regularly scheduled exercise and ski training. We quite like living in two snowy places.
jeremy skins up with a very excited neva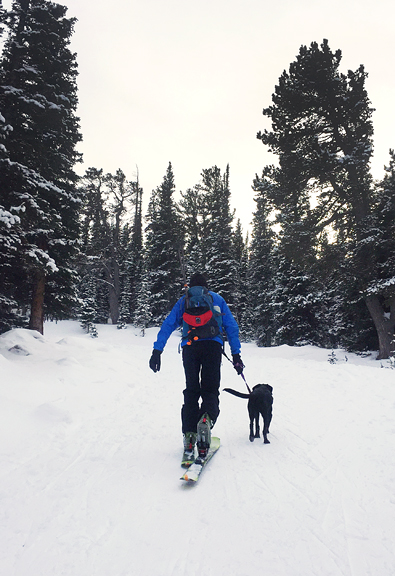 she even developed a cute little snowbeard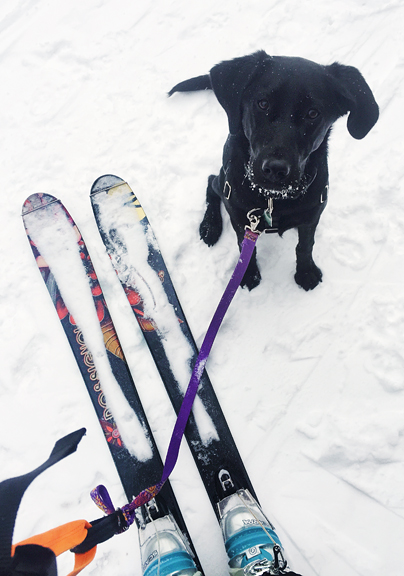 Now that December is at our doorstep, I will be baking a lot of sweets for the next few weeks to distribute to those good people who provide important services like delivering our mail, taking care of our pup, helping us do our jobs, monitoring my health, and being great neighbors. During the holiday bake-a-thon, I develop a strong aversion to sweets – especially the ones I'm making. I just want to eat savory, simple, and delicious fare. Lately, the pizzas at
Crosscut Pizzeria and Taphouse
have inspired me to find a fresh tomato-y pizza sauce for the pizzas we make at home.
diced canned tomatoes, garlic, balsamic vinegar, salt, pepper, olive oil
**Jump for more butter**