Recipe: doggy birthday cake
This weekend, we celebrated Neva's first birthday! Can you believe it? She's now one year old. Such a big girl compared to that silly little puppy pup she once was. Neva has learned so much since we brought her into our home. She still has a lot more to learn, but we're so proud of how far she's come.

the little munchkin seeing snow for the first time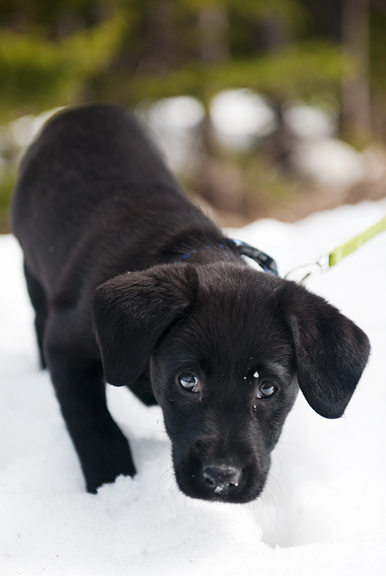 Neva has had a lot of time on snow in the ten months we've had her, and every single time she acts like it is the very best thing ever. How could I not love this girl? I guess this is why I love dogs in general – they have this undying genuine enthusiasm for living. Jeremy and I decided that we'd take Neva on a nice backcountry ski for her special day. She got lots of snacks on the way up and tons of running on the way down.
neva wagged the whole way up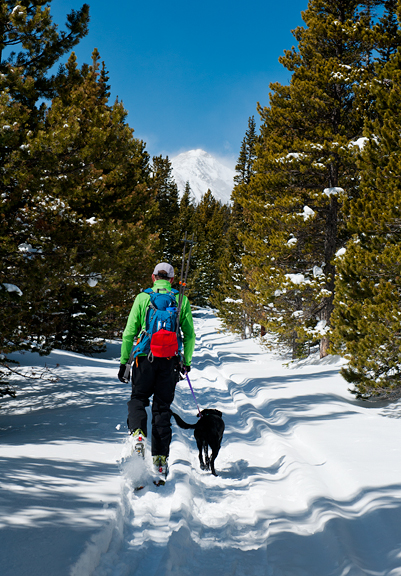 waiting patiently for more treats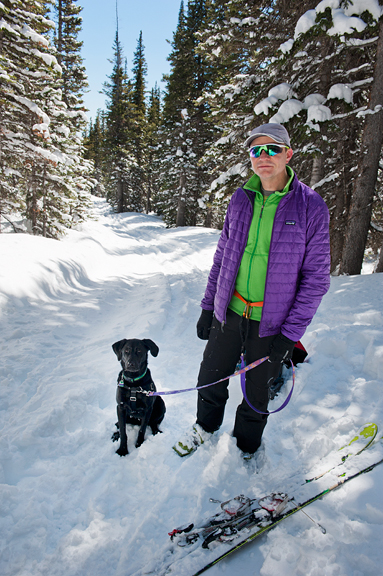 skiing out with a view east toward the flats (great plains)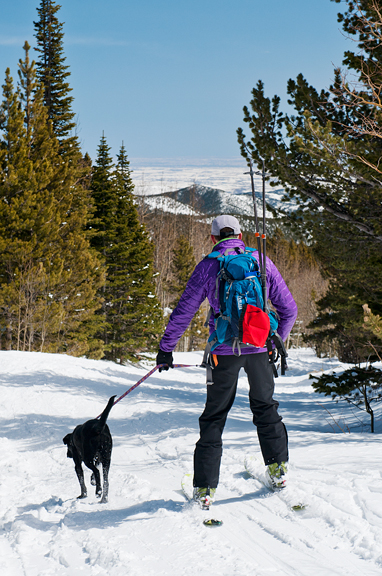 sufficiently tuckered out that she had fallen asleep on the ski boots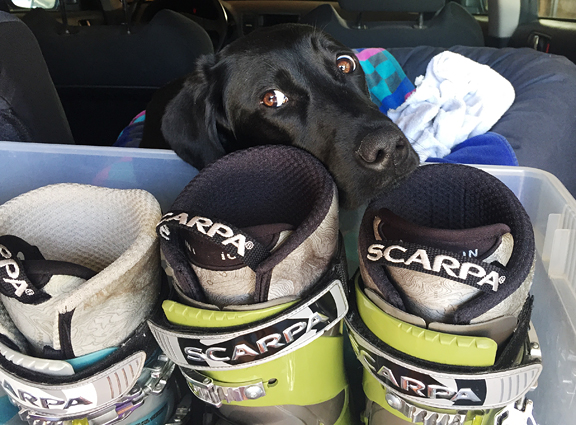 After all of that exercise, we made sure Neva replenished those calories lost and then some. She partook of some raw beef (her favorite) and sampled a couple of strawberries (she likes those) and she had cake. Yes! She had birthday cake! I had done some quick research a few days earlier to make a nice dog-friendly cake for our puppity pup. It is mildly sweet (from applesauce and banana) and tastes like a bland, fluffy quick bread to us humans, but Neva LOVES it! Of course, Neva is a lab, so she loves pretty much anything. The recipe is simple and quick. The best part is that it is pretty well-behaved even at my elevation. Winner.
cream cheese, baking powder, egg, peanut butter, whole wheat flour, coconut oil, applesauce, banana
I tried to avoid any added sugars – even honey – because I don't think Neva needs sugar (she's spastic enough as it is). The banana and unsweetened applesauce add just a touch of sweetness. The riper the banana the sweeter it will be and the easier it is to mash it up.
mash the banana
for the cake: whole wheat flour, melted coconut oil, mashed banana, applesauce, egg, baking powder
mix it all together
[Edit:
I know you guys won't go crazy with the coconut oil, but just as a guideline – don't give your dog more than 1 teaspoon of coconut oil per 10 pounds of dog weight per day. That means Neva isn't allowed to eat the entire cake in a single day.
]
I melted the coconut oil so it would be easier to stir into the batter. Just make sure it isn't piping hot or else it might curdle the egg. The batter will be rather thick and more like a quick bread batter than a typical cake batter. I decided to make two 4-inch round cakes and had enough batter left over to make two cupcakes. In general, fill the cupcake liners or cake pans no more than half full.
a thick batter
smooth the tops (they will still dome when they bake)
baking extra batter as cupcakes
Frosting is optional. I mean, these are dogs we're talking about. They will not be slighted if you don't frost their cakes and cupcakes. But we're also talking about me baking a cake for Neva's first birthday, so you know I'm going to frost that sucker. I opted for a mix of cream cheese and peanut butter. And because I was shopping for cream cheese on the Friday before Easter, it seems that everyone was out of block cream cheese, so I had to buy whipped cream cheese. Either way, they blend together to form a decent frosting. Adding powdered sugar and some butter would give the frosting better spreadability, but I wanted to keep it simple as well as minimize any puke episodes.
cream cheese and peanut butter
frosting is ready
The cakes baked up beautifully. I am always a little nervous when trying out a cake recipe because things can get wonky at my elevation, so this is good news. Both the cakes and the cupcakes domed a little, but the cupcakes got frosted on top and the cakes were trimmed and then frosted. Even completely cooled, the cakes were quite moist, but still very easy to slice into two even layers. I saved the tops for later because Neva can snack on those. Actually, Jeremy and I tasted part of a top and it was not bad. It wasn't great by our standards, but it wasn't bad at all.
out of the oven
trimmed for even, flat layers
applying the crumb coat
I couldn't help myself and added a few sprinkles to the cupcakes and cake. They are so festive looking with sprinkles! We let Neva sample a cupcake the day before her birthday, just for quality assurance. I mean, I couldn't serve her a birthday cake she hated, right? There was no hating whatsoever.
cupcake with a homemade doggy biscuit
the two-layer cake
For the longest time, we couldn't get Neva to sit in front of the cake because she runs away from the things she really wants. Dog logic. Eventually, we had to let her sit a few feet away from the cake and then move the table up to her while emphasizing the "stay" command. Hey, at least she didn't lunge at it.
good birthday girl!
cross section
a little slice
Of course, I couldn't help picking up these rabbit ears for Neva. We don't celebrate Easter, but since her birthday was on Easter and because she LOVES rabbits… It took a lot of persistence on our part because she kept trying to eat the ears. But once we set the cake in front of her, she completely forgot about the ears. Happy birthday, baby puppy Neva!
caaaaaaake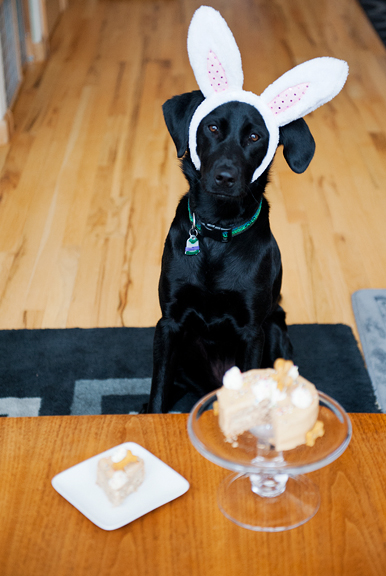 eating a slice of her birthday cake (with ears on)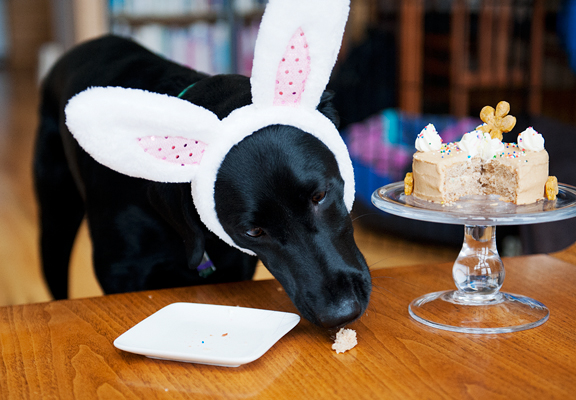 oh the indignity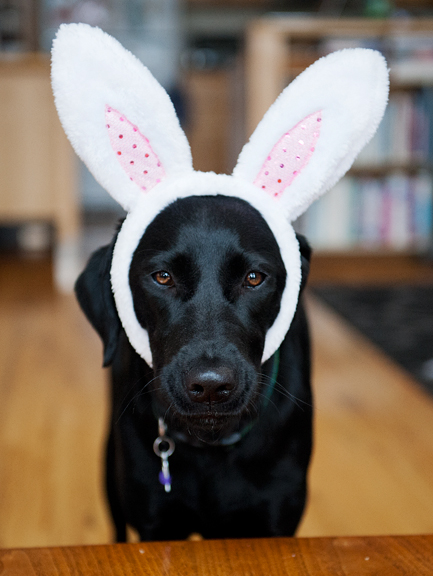 yummy cake…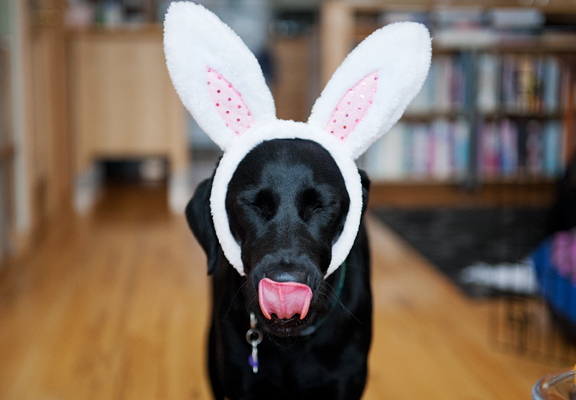 Doggy Birthday Cake
[print recipe]
modified from this recipe
cake
1/2 cup whole wheat flour
1 tsp baking powder
1/4 cup (4 tbsps) coconut oil, melted
1/4 cup unsweetened applesauce
1 egg
1/4 cup smashed banana
frosting
4 oz. cream cheese, room temperature
2 oz. (4 tbsps) peanut butter*, room temperature
* A reader pointed out that a handful of peanut butters contain xylitol, which is a sugar substitute and can be toxic for dogs. Please make sure that the peanut butter you feed your pup is safe!
Bake the cake: Preheat oven to 350°F. In a medium bowl, mix all of the ingredients together until the batter is thick and uniform. Fill 6-8 cupcake tins lined with cupcake papers half full with batter. Or you can make two 4-inch round cakes (filled halfway) and two cupcakes. Or you can make two 6-inch round cakes. If the cake pans are not non-stick, then grease and flour as needed. Bake the cupcakes for 10-12 minutes until a toothpick inserted in the center comes out clean. Bake 4-inch round cakes for 14 minutes. Bake 6-inch round cakes for 15-16 minutes. Both round cakes are ready when a toothpick inserted in the center comes out clean. Remove from oven and cool.
Make the frosting: Beat the cream cheese and peanut butter together until smooth. If the frosting is too stiff, add more peanut butter to achieve desired consistency. Frost the cupcakes or cake(s).
Makes 6-8 cupcakes, or one 4-inch double layer cake and 2 cupcakes, or one 6-inch double layer cake. The cake should keep for 3-4 days covered in the refrigerator.
more goodness from the use real butter archives