Recipe: sour cream coffee cake
Sure, that Spring Equinox might be right on the horizon – so close that you can practically reach out and smack it – but that's not what I'm thinking about when an upslope storm hits my hood.

you know what this means, kids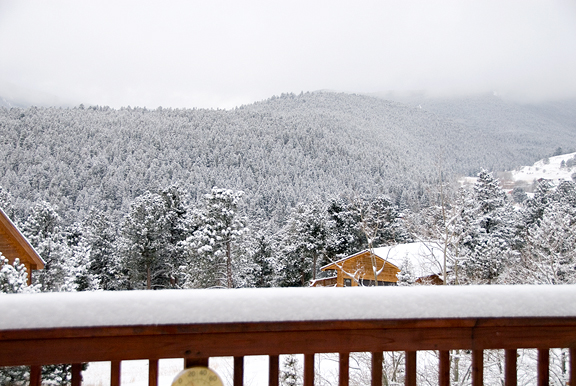 It was really lovely skiing Monday. Freshies! And if I want to catch me some "almost spring" I can head down to Boulder, which I did today to enjoy happy hour with one of my buds who just returned from 2 months of field work in Africa. So nice to catch up. So nice to eat solid food!
peel and eat shrimpies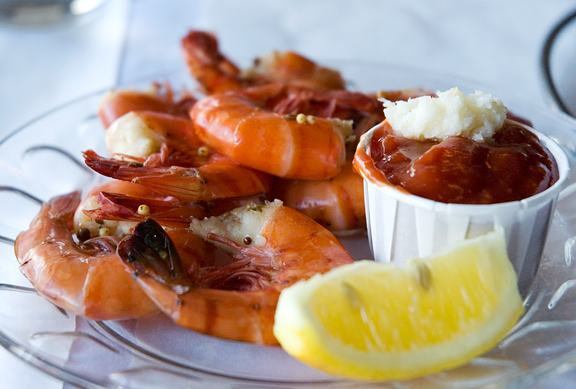 mmmm, gruyère fondue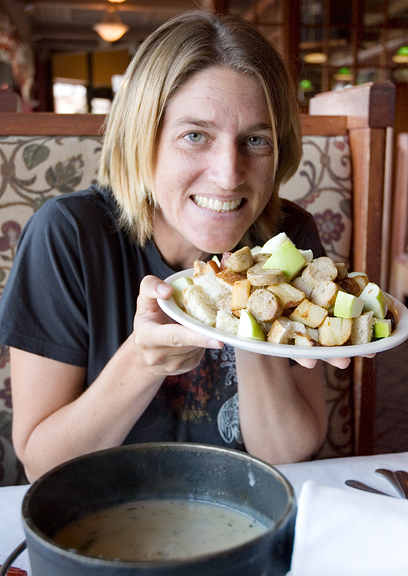 The trees on Pearl Street are sprouting buds and it won't be long before that lovely yellow-green of tender leaves begins to emerge like thousands of glowing green jewels in the sunlight. I get to straddle two seasons and I dig it!
It's been a while since I've posted a sweet recipe and I remembered that I had made a sour cream coffee cake for the chemo nurses for my last treatment. They all loved it and it's no surprise since this cake is one of those goto recipes for me. I think I gravitate toward recipes with sour cream because of the moist crumb and also because they tend not to crap out on me at elevation in the oven. Still working out that whole altitude adjustment issue with my baking, but I'm slowly making progress.

adding eggs to the creamed butter and sugar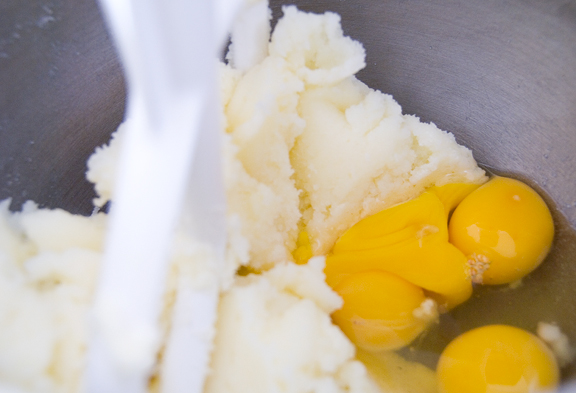 sour cream for outstanding texture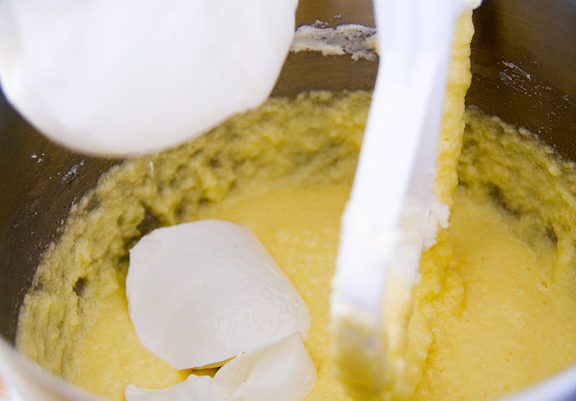 The cake batter is pretty standard: butter, sugar, eggs, sour cream, flour, leavening. It doesn't pour so much as plop into the pan, so you'll have to do some spreading.
spread half of the batter around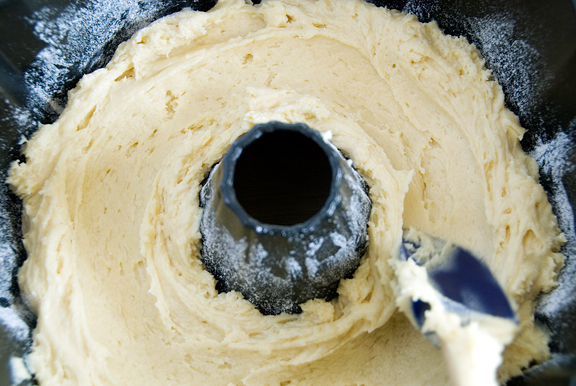 The streusel topping is easiest to mix with a *clean* hand although you're welcome to use a pastry cutter or fork if you don't like to actually touch food.
streusel ingredients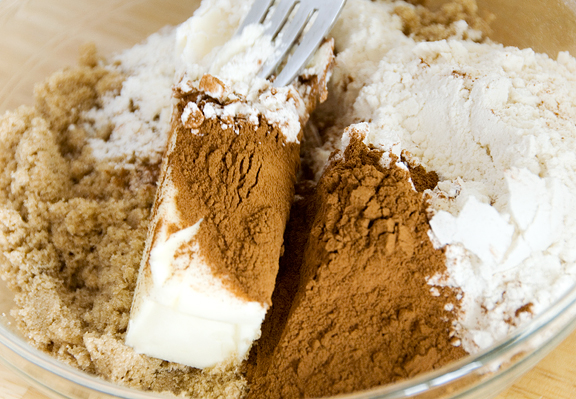 after mixing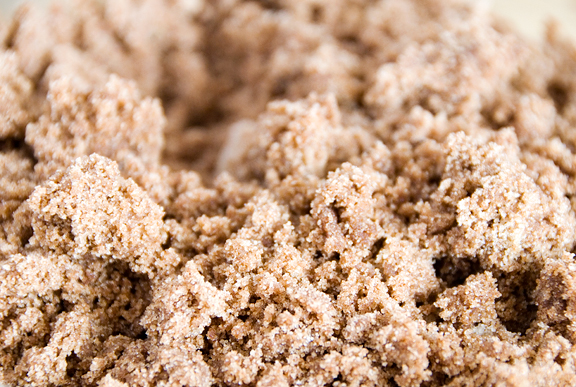 Once you spread half of the batter into a greased and floured pan, sprinkle three-quarters of the streusel mix over the batter, then spread the rest of the batter over top.
sprinkle the rest of the topping on the cake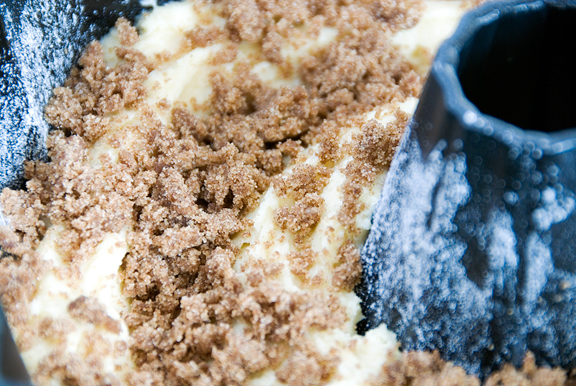 cooling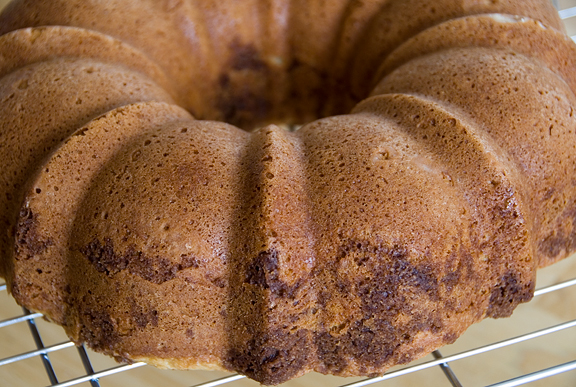 Of course, once I had baked the bundt, I couldn't shoot a cross section slice because I didn't want to take a "cut" cake to the nurses. So I made a second one in my flat pan to carve a piece out and made Jeremy eat the whole damn thing.
great with coffee, tea, or milk
Sour Cream Coffee Cake
[print recipe]
streusel topping:
1/2 cup brown sugar
2 tbsps flour
2 tsps cinnamon
2 tbsps butter, softened
cake:
1/2 cup butter, softened
2 eggs
1 tsp vanilla extract
1 cup sugar
1 cup sour cream
2 cups flour
1/2 tsp baking soda
1 tsp baking powder
Preheat oven to 350°F. Grease and flour a standard bundt pan. Mix the streusel ingredients well and set aside. Cake: Cream butter and sugar together. Beat in eggs and vanilla. Mix in sour cream. Sift together flour, baking powder, baking soda and add to the wet mix. Beat until just combined. Spread half of the batter into a greased and floured pan. Sprinkle 3/4 of the streusel mix over the batter and then pour the rest of the batter into the pan. Top the cake with the remaining streusel. Bake at 350°F for 45 minutes or until a toothpick comes out clean or with moist crumbs.