Recipe: single-ingredient ice cream
Administrative news: The amount of spam accumulating in my filter is increasing and the amount of time I have to glance through and fish out the occasional legitimate comment is all but nil at this point. From now on, I'm deleting the hundreds of spam caught each day without a second glance. If you leave a comment and it does not show up immediately, you probably went the way of spam. Please feel free to email me and let me know so I can rescue you and keep you off the blacklist. Thanks!
I've been doing a massive purge of my second office, recycling old notes and literature that I no longer need. While doing so earlier this week I discovered a diagram that my favorite geomorphologist, Dr. Arthur Bloom, gave me in graduate school. Mineralogists will recognize this kind of diagram – except it doesn't involve minerals. I thought this readership might get a kick out of it (at least I know Bridget will).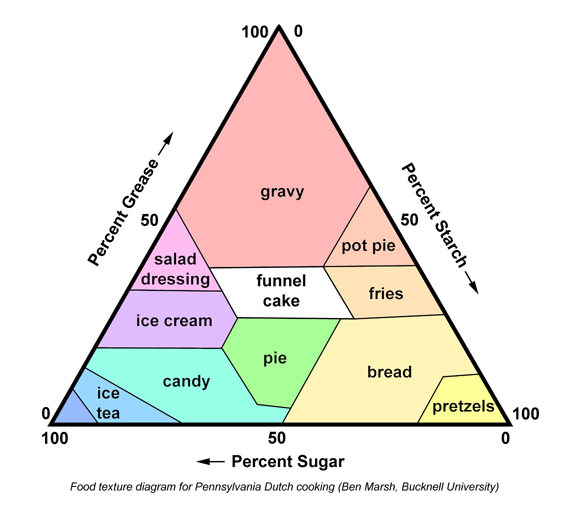 Needless to say, I kept that little gem.
Summer for some of my friends (those with school-age children) is coming to an end. They've been scrambling to squeeze the most out of the final days before school starts next week. But you know, learning does not have to be (and should not be) limited to the school year. The Perseids meteor shower is tonight and it's a great opportunity to see Nature's little light show if you can get yourselves to dark skies, away from city lights. I love me a meteor shower and the Perseids are my favorite – a solid and consistent performer if you get clear skies! Tonight and tomorrow night (Aug 12/13) should be at peak activity with approximately 50 meteors per hour. Start looking after dark (after the crescent moon sets) up until dawn. It's fun to settle down in a lawn chair where you can find some good sky view (open sky with few obstructions), relax, and enjoy the show.

please please please clouds, take a break?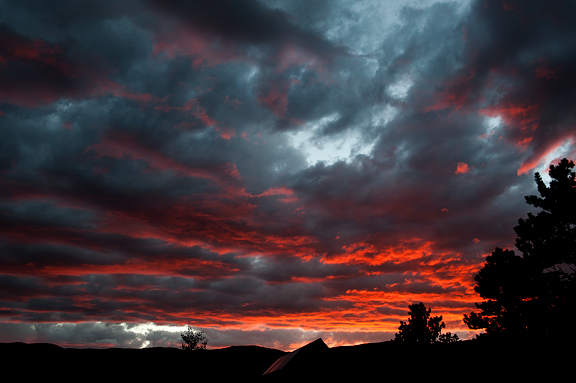 So what's this ice cream for breakfast ridiculousness? Well, it's true. I had ice cream for breakfast today. Actually, I had "ice cream". I read about this one-ingredient ice cream on
Apartment Therapy's The Kitchn
months ago and was intrigued. That single ingredient would be:
bananas
i prefer them just spotted
I try, I really try to love bananas. It's not them, it's me. I like fruit that is juicy and bananas are not juicy. But bananas are so very very good for you and that is why I buy them, in the hopes that I'll guilt myself into eating them. What usually happens is they start to turn brown, I chuck them into the freezer, and wind up making
chocolate chip banana bread
to give away to my friends. Or I'll peel one open and split it with Kaweah. That's why any time, any one, any where peels a banana, she suddenly appears at your elbow.
and there she is
slice into 1/4 to 1/2-inch disks
This ice cream recipe is super simple. I recommend that you follow the instructions and slice up the bananas before freezing. It makes it far easier – nay, possible – to blend them up properly as opposed to trying to chop up the frozen whole bananas (uh, that didn't really work for me). They freeze through in about an hour, depending on your freezer. Once they are ready, just plop all of them into a food processor. I had to pry a few off the plate with a knife.
sliced
frozen
This is where the fun begins. Start running the food processor. The banana disks will soon become frozen banana gravel. That's fine. You're not there yet. Keep running the processor. At some point, the blades will just spin around and nothing will move. Expect to stop and scrape down the sides of the work bowl several times. As the pieces get smaller and the surface area increases, the banana will begin to thaw just a touch and suddenly it all blends into this lovely whipped banana that has the texture of soft serve ice cream. Wow!
frozen banana gravel
whipped goodness (really, it's good for you!)
The transformation was a surprise, but a nice one at that. It doesn't have a strong banana taste, but it does have a banana taste. Still, for me – the girl with lukewarm feelings about bananas – I thought it was fantastic. I have done a couple of batches now: one plain and one with peanut butter and cocoa powder. My friends came over yesterday and gave me feedback on the two. Everyone preferred the peanut butter and cocoa flavor, but liked the plain (banana) as well. They were all surprised by the creamy texture. "This is
just
banana?"
a dollop of peanut butter
some dutch-process cocoa
eat it soft or freeze it for scooping
I want to try using coconut milk, fresh berry purée, caramel, and of course, some mix-ins. It's a great ice cream alternative if you don't mind the presence of a banana flavor (Jeremy DID mind it), are lactose intolerant, or want a vegan or lowfat or low sugar version of a creamy summer treat. Plus, it's fun and quick to make. I don't have to plan ahead of time and chuck my ice cream maker container into the freezer the day before or deal with separating eggs. So that's what I had for breakfast this morning – bananas, but in this lovely banana ice cream form. Win-win!!
kaweah got a little bit of the bottom scoop
Single Ingredient Ice Cream
[print recipe]
from The Kitchn
4 bananas, just slightly overripe (brown spots good, completely black not so good)
2 tbsps creamy peanut butter (optional – thus 2 ingredient ice cream)
2 tsps cocoa powder (Dutch process), (optional – thus 2 or 3 ingredient ice cream depending on peanut butter)
DO NOT FREEZE THE WHOLE BANANA, you'll have a heck of a time blending that beast.
Peel the bananas and slice them up into 1/4 to 1/2 inch thick disks. Place the banana slices in the freezer for about an hour or until they are frozen solid. Put the frozen slices in a food processor and pulse. First they will start to resemble gravel, but keep going. The bananas will soon turn into a frozen mush – at this point, start scraping the sides down (you will do this a lot). Or you could add a dash of milk since the liquid will help the blending. I'm lactose-intolerant, so after a few minutes of stopping to scrape the sides down, the banana begins to blend into a creamy texture. When the bananas look like whipped ice cream, you can add your mix-ins like peanut butter and/or cocoa powder, chocolate chips, toffee, raspberries, anything goes! Straight out of the food processor, the ice cream is like soft serve. You can also freeze it for a firmer texture. I find it's pretty hard (and therefore, brittle) when I scoop it immediately after removing it from the freezer. Just give it a minute or two to soften up. Makes a pint.