Recipe: milk tea boba
I did not expect the volume of comments and emails in response to my last post. At some point, I plan to sit down and reply to you when I can carve out a chunk of time and clear some space in my brain. I suppose that is the main issue – time… okay, time and priorities. All of the other gobbledygook just feeds into the priorities (which ultimately translate into time allocation). Hopefully changes, if any, will be implemented behind the red velvet curtain and relatively transparent to you. But thank you for your kind words of support and well wishes. It was not my intention to alarm anyone, just to vent some observations (frustrations?) that have been bugging me like floaters in my eye. I think it's healthy to regularly assess where you are, where the heck you're going, and why.
This past evening, like every evening, we let Kaweah out to do her business in our yard. And like every evening, we put her glow collar on before letting her outside. Black dogs in the black of night who like to dawdle in the blackest of shadows scavenging for inedible things to eat get glow collars in this house. I did a few long exposures to see what manner of light trail Kaweah would create for giggles.

at first, she didn't (jeremy's figure(s) to the right)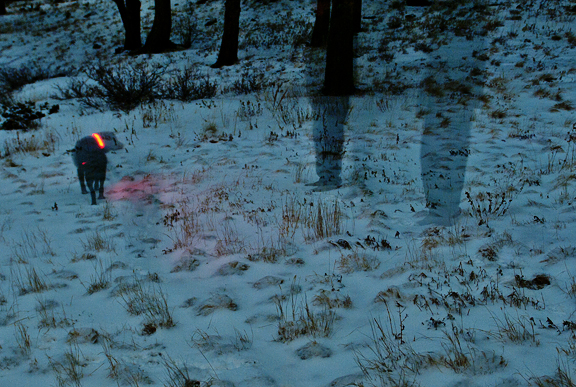 but look what happens when you say "treat"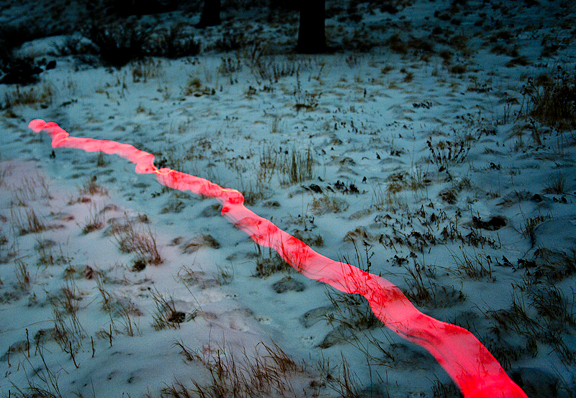 Kaweah reacts to the word "treat" the way Jeremy does to the word "coffee". One of his favorite places for caffeinated beverages in Boulder is
Atlas Purveyors
. That's pretty convenient as I tend to have meetings at Atlas and grab a latte to go for Jeremy if I'm going to pick him up from work. I like Atlas. I like the people who run Atlas. I like the people who work at Atlas. I like the patrons at Atlas. They were one of the sponsors of the Food and Light photography workshop we held last summer.
But I don't drink coffee. Couldn't tell you the difference between the worst coffee and the best coffee. The first time I stood at the counter trying to find something non-coffee to order, Chris – one of the owners and a really swell guy, rattled off all manner of teas that might interest me. I spied boba on the chalkboard. Oh, I love me my boba. A milk tea boba, please (also known as bubble tea). And I've been hooked ever since. Atlas is where I go to get my boba fix and Chris has been sneaking in bits of tea education to boot. I wanted to make my own milk tea boba, so I asked Chris if I could purchase some of that lovely black tea.

black tea from atlas purveyors
5-minute boba
Boba is giant pearl tapioca. Each pearl is soft and chewy with a slight sweetness. I refer to boba as my favorite choking hazard snack because it's not that difficult to accidentally suck a boba up the big straw and down the wrong pipe. You need to either be mindful of how you consume the boba or enjoy it in the company of someone who will perform the heimlich on you. Back in the day, I purchased the old-fashioned kind of dried boba which took a long time to cook (boil, simmer, cover, wait). These days, they carry 5-minute boba in my local Asian grocery store. It takes five minutes to cook!
top the boba with some ice
pour the brewed black tea
Atlas prepares my milk tea boba with rice milk, per my request. Being completely ignorant of coffee culture, I was overwhelmed with all of the dairy alternatives. It's Boulder, after all… While milk makes for an unhappy tummy, I like the taste of soy milk. However, I have to watch my soy intake (per my oncologist's instructions), so rice milk it is. You can use whatever you like or skip the "milk" altogether. I made this one with non-fat milk for Jeremy.
add milk
swirly
This is the basic milk tea boba. You can get fancy with all sorts of flavors and add-ins at boba tea joints. They have coffee, thai tea, passion fruit, strawberry, kiwi, honeydew, azuki bean, taro – just to name a few. Kaweah has her "treat", Jeremy has his "coffee", and I have my "boba". I love to bite down on each pearl – my teeth practically bouncing off the chewies, releasing the mild flavor of the tapioca. It's like a favorite childhood activity that I never experienced until I became an adult. I bond with friends and family over boba – just ask
Lisa
or
Todd and Diane
. Good times!
milk tea boba
Milk Tea Boba
[print recipe]
1 tsp black tea
8 oz. water, boiling
sugar (optional)
1/4 cup boba (pearl tapioca), cooked per package instructions
ice
milk (optional)
Steep the tea leaves in a cup of boiling water to desired strength (about 5 minutes for me). Remove the tea leaves. If you want your tea sweetened, add sugar to taste. Let the tea cool. Place the boba in a large glass. Fill the glass with ice. Pour the tea over the ice. Top with milk. Makes one 16-ounce serving.