Monday, August 31st, 2009
There are times when I'm wrong. I know this shocks you as much as it shocks me. A year ago you could find me railing against Twitter and FaceBook declaring I would never join either one. Today, you will find me railing against Twitter and FaceBook ON Twitter and FaceBook. Twitter is for the egomaniacs, minutiae-obsessed, and people who never shut up. FaceBook is for those who don't know how to blog. Okay, I'm making fun (sort of). I drank the punch for a variety of reasons, but one of the benefits of Twitter that I never foresaw was how it connected me to Boulder. I don't live in Boulder. When people ask where I live, I usually tell them Boulder, Colorado because few people have heard of my little mountain town. So one evening the tweet activity was hopping and I'm tweeting away with Andrew (follow @andrewhyde on Twitter), the man who knows EVERYONE, and a fellow tweets that he likes the name of my blog and if I drop by his shop, I'll get free chocolate. Andrew too, if he comes with me.
Yeah. Sure you will, Mr. Axe Murderer.
There is much spamming on Twitter (I had 67 hot babes ask me to check out their profiles the other day… uh huh) and you get your fair share of freaks. I checked his profile and read that Rick is an organic chocolatier in Boulder. REALLY? I did some quick research and saw he is the real deal. I asked if it would be okay for me to come by and take pictures. Sure, but just try the chocolate first, no obligations. Great! I'll get in touch when I find some time in my schedule. Over a month later, I'm donning crocs and a hair net as I pass through the glass doors into the inner workings of Seth Ellis Chocolatier headquarters. This is why I love Twitter – it has brought me closer to the fooding community in Boulder and it's a GREAT community. I still hate FaceBook.

chocolate truffle to nibble on while i waited for rick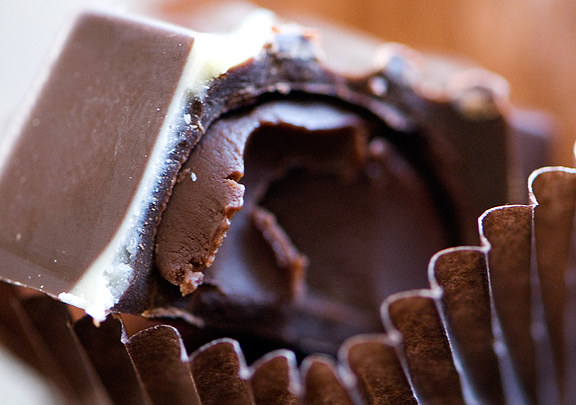 **Jump for more butter**