Recipe: peanut butter truffles
You know when you get sick and you feel awful and then when you're well again it's completely amazeballs awesome? That's me times a million. I get that same feeling of elation as I would every time I came out of a chemo round. It makes me want to burst through the front door and go running into the mountains. Because I was sick for most of last week, I decided to lay low over the holiday, listen to my body and rest. I do get a little stir crazy after a few days indoors, but managed to find several projects to keep me occupied. And it helped to just stay off the computer.

cardboard tube light saber fight: the light saber lost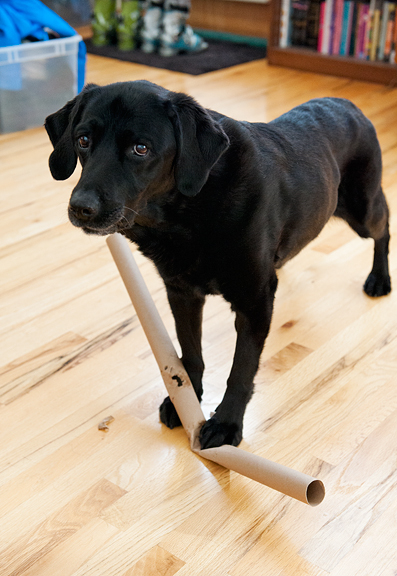 nothing beats a hot bowl of chinese noodle soup when you're sick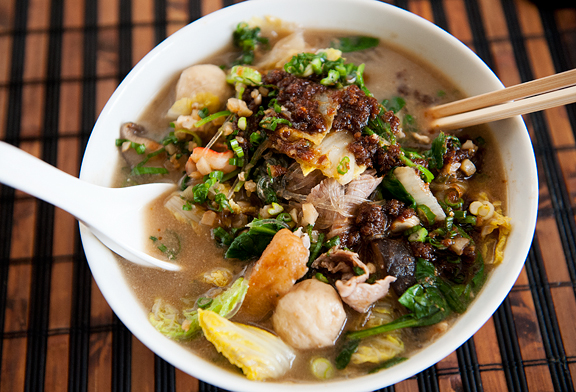 We had received a club shipment of sparkling wine the week prior – four magnums. I was on the mend, so we decided to have some folks over to help us put a dent in the bubbles over the weekend. I mean, magnums are so festive, no? I was psyched to be able to cook for friends or do anything for that matter! We were treated to a blazing sunset off the deck and an evening spent with wonderful people. I'm feeling good and ready to plunge into January!
bubbles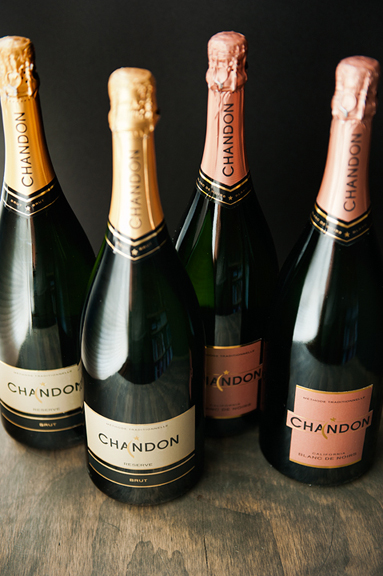 i had to stop folding dumplings to run out and catch this one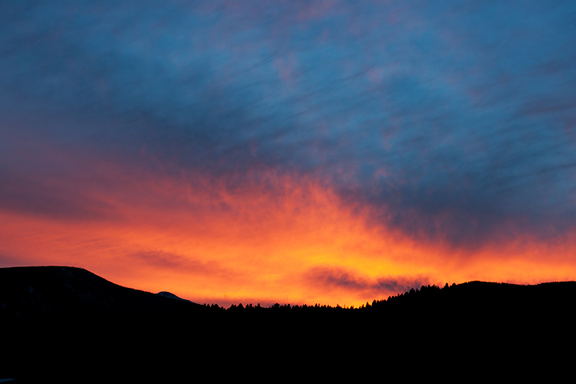 Jeremy and I walked off the party food Sunday afternoon. It had been a week since I'd been outside in the woods or even remotely active and I missed it. It's my battery charger to get out and breathe that clean air, to walk through the pristine snow. And now that I'm nearly back to normal, I can look at the computer monitor without getting a headache. In the baking madness of mid December, I dug up an old recipe my elementary school teacher had made for my class back in the 70s. They're called peanut butter truffles, but I always thought of them as peanut butter balls. It called for margarine in the filling and paraffin wax in the coating, so I made the appropriate adjustments.
butterscotch chips, chocolate chips, peanut butter, confectioners sugar, butter
That's right, I subbed butter for the margarine (we don't use margarine on this blog, EVER) and omitted the paraffin wax altogether. It's a simple treat to make, which is probably why my teacher thought it would be a good project for her class of second graders. I just remember bringing home a small canister filled with cupcake papers that had three peanut butter balls in each paper and wanting to show my grandma what we had made that day in school.
beat the butter and peanut butter together
add the confectioner's sugar
it should be fluffy when mixed
I haven't made these in a long long time. I used organic ingredients where possible and mixed the filling in no time with my stand mixer. I considered skipping the butterscotch chips and just tempering dark chocolate for the coating, but there was that whole nostalgia thing going on in my head. So the butterscotch chips stayed. But if you are interested in tempering chocolate for a coating, I
describe the seed method in this post
.
grab a pinch of peanut butter filling
roll into balls
now melt the chips
If the working temperature in your place is too warm, you may want to pop the rolled peanut butter balls into the refrigerator or freezer to keep cool and to hold their shape. You definitely don't want them to get soft while you dip them in the coating or else things will end badly. Melt the coating on low power in the microwave or in a double boiler until just melted to avoid burning. The warmer the melted chocolate and butterscotch chips, the thinner your coat will be. I let my coating cool to about 98°F before I began dipping. You can dip by hand, with a fork, using toothpicks, or candy-making tools if you have them. Just work quickly and shake off any excess before setting the truffles on a silpat, parchment, or wax paper to cool.
i start dipping around 98°F
coat the entire peanut butter ball and let the excess drip off
set on silpat (or parchment or wax paper) to cool
The peanut butter truffles are as I remember them, but I suppose my tastes have changed because I found them to be pretty sweet. Everyone else who has tried them loves them, especially Jeremy who is not a fan of peanut butter. That was a surprise! The nice thing about homemade cookies and candies and individual goodies is that they are a small gift that can bring big smiles to people's faces.
second grade memories
happy surprises
Peanut Butter Truffles
[print recipe]
from my elementary school teacher
8 oz. butter, softened
12 oz. creamy peanut butter
16 oz. confectioner's sugar
12 oz. semi-sweet chocolate, chips or chopped
6 oz. butterscotch chips
Cream the butter and peanut butter together in the bowl of a stand mixer fitted with the paddle attachment. When the butters are blended, gradually add the confectioner's sugar and mix until incorporated. Continue until all of the sugar is blended into the butters and the filling is a fluffy, but not sticky, dough. Start pinching off about a tablespoon or more of the filling and quickly rolling it into a ball about 1 inch in diameter. Don't work it too much or the heat from your hands will start to melt it. Place all of the rolled balls in the freezer. Melt the chocolate and the butterscotch chips together in a double boiler or on low power in a microwave (stirring every minute or so to avoid burning). When the chips are mostly melted, remove the melted chocolate mixture from heat and stir until smooth. Measure the temperature and start dipping when the coating drops below 100°F. [Alternatively, you can temper semi-sweet chocolate if you know how to do that.] Drop a cold peanut butter ball into the coating and roll it around until it is completely covered with chocolate. Lift the ball out with your hands, a fork, a toothpick, or a candying dipping fork; drain off the excess coating, and then gently roll it onto a silpat, parchment-lined baking sheet, or wax paper-lined baking sheet to cool. Repeat. Let the coating dry completely before attempting to remove the peanut butter truffles from the cooling surface. Store in an airtight container in the refrigerator or a cool, dry location. Makes about 5 dozen.