Recipe: chinese hot pot
While I was pondering a non-trad Thanksgiving menu, HolyBasil reminded me of a favorite dish from my childhood: Chinese hot pot. Call it what you want, huo guo, shabu shabu, fondue… it's delicious and fun. My mom prepared this on cold nights and it was perfect for someone as picky as my sister. I distinctly recall the steam rising from the broth in the electric wok, fogging the insides of every window in the kitchen. The wok was the centerpiece of the table, surrounded by plates and bowls of colorful vegetables, meats, noodles, and tofu – ready to be picked and cooked. My mother hand sliced everything with such precision and laid out all of the ingredients in beautiful fans.

a modest spread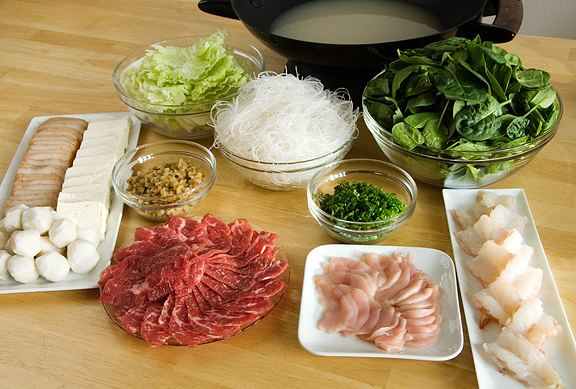 Typically I like to serve beef (flank steak), chicken (breast), shrimp, tofu, cuttlefish balls, tempura fish cake, bean thread noodles, spinach, napa cabbage, preserved mustard green, and green onions. Wash, peel, chop, slice everything in advance. To slice the meats thin, I freeze them for an hour or more until they are firm, but not rock solid. I soak the noodles in cold water for 30 minutes and then drain. In the electric wok, I usually pour a carton of chicken broth (I happened to have homemade broth this time – woohoo!) and dilute it with some water. Cover the wok and let the liquid come to a boil, once boiling add half of the noodles, some tofu, some fish balls, and some of the greens. When the broth returns to a boil, reduce to a simmer.
bean thread or cellophane noodles are a staple in my version of hot pot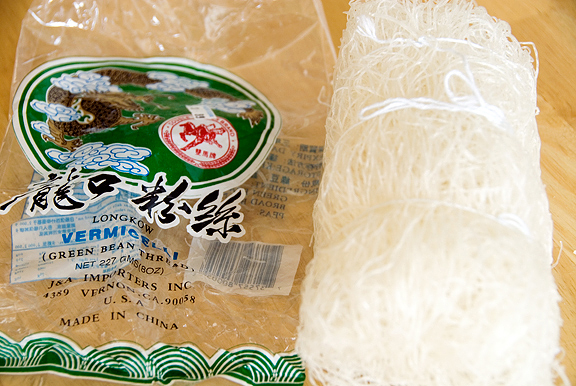 love the greens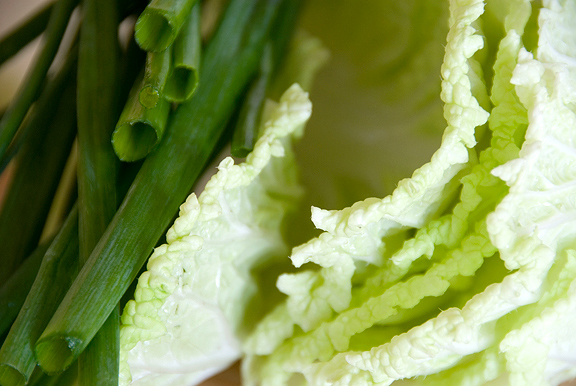 The key ingredient that goes into your own bowl is a spoonful (or two) of sa tsa jian – barbecue sauce. The only brand we ever get is Bullhead. I include the picture because like most of you, I can't read Chinese *hangs head in shame*. Good thing I have such a visual memory because that is how I shop in Asian markets – labels. The ingredients aren't anything scary, just ground up dried shrimp, brill fish, chili, garlic, oil, salt…
chinese barbecue sauce: it makes the meal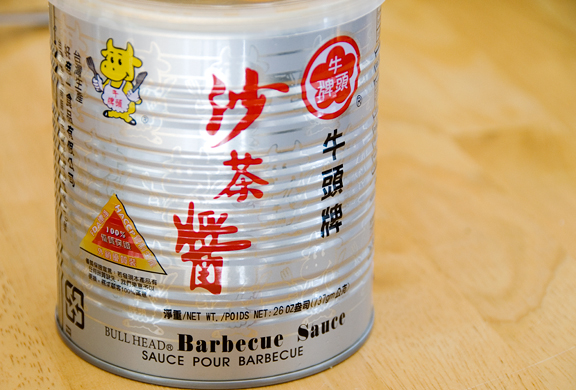 Good stuff. We add the green onions and preserved mustard green to our bowls and in my case, some wonderful chili garlic paste for kick.
awaiting soy sauce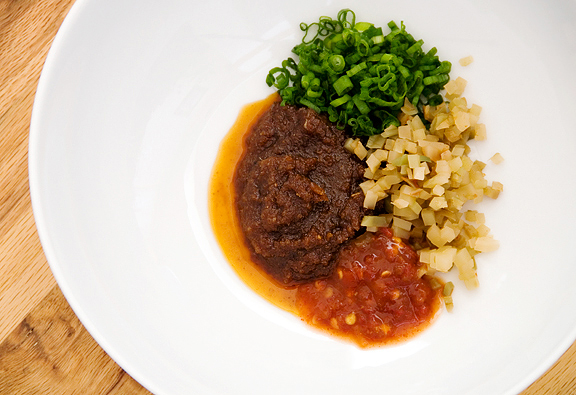 Pour in as much soy sauce and sesame oil as you desire. The bowl will be fantastically salty at this stage, but you are supposed to dilute it with ladles of broth, noodles, and vegetables from the hot pot. As the liquid level lowers during the meal, replenish with hot water (we have a kettle of hot water at the ready).
Shrimp is something I only include when we have guests or if I am feeling particularly indulgent. Fresh is best. I peel and devein my shrimp and then I butterfly them open. It helps them cook more evenly – in the hot pot, they cook in less than a minute – and they curl up into a beautiful shape, like a blossom.

lovely shrimpies, i cannae resist ye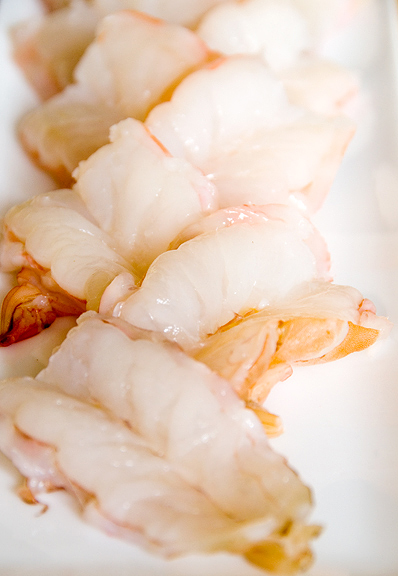 Chinese hot pot is a veritable mini buffet. People get their bowls ready with the spices and seasonings they want, then select what to eat, place it in the hot pot and let it cook. As food becomes ready to eat, they place it in their own bowl. You can graze (eat as it comes) or feast (fill your bowl and chow down). Whenever I serve this dish to my non-Asian friends, they go nuts over it. Beautiful in its simplicity, I just prep the food and they cook it to their liking – everyone is happy. The whole meal is remarkably fresh and healthy.
cooking a slice of flank steak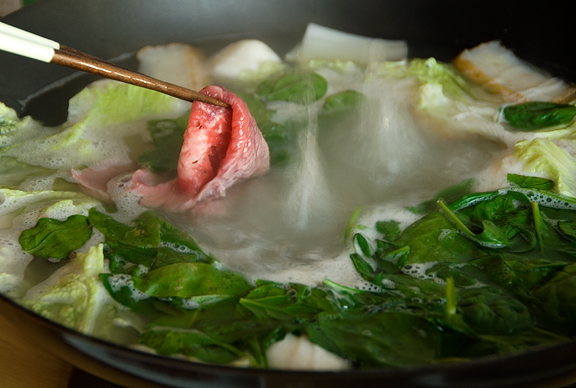 In my family, some things are communal – like the bean thread noodles, spinach, fish balls… Other items are personal: chicken, shrimp, beef. Let me rephrase that, Kris and I considered the meat personal and we would cook them in our own little "corner" of the pot. My parents seemed to regard the whole thing as communal and we would have to be vigilant for The Stir. That is when one of my parents, deep in conversation, would take their chopsticks and give the entire pot a huge stir while our cries of lost shrimp or beef would go unheeded. You see, Kris and I liked to cook our beef pink, not gray and the difference was literally seconds.
Of course, you can get as simple or as elaborate as you like. My parents have included scallop, grouper, pork, fried tofu, chinese mushrooms, snow peas, pork meatballs (similar to the filling in dumplings)… and Jeremy and I have prepared it with what I consider the bare essentials: beef, spinach, noodles, fish balls. I just want to warn folks that if you don't have a trusted electric wok or electric cook pot, be sure to get one that is well made and safe. Our old one had a frayed cord, so we bought a new one two years ago on sale for $40. It has horrible temperature regulation and we have to use a heavy duty extension cord because it will melt a standard extension cord due to its 1500W draw. Don't want your hot pot to turn into a house fire, okay?

a delicious party in my bowl
Chinese Hot Pot – Huo Guo
[print recipe]
3/4 lb flank steak, sliced thin
3/4 lb chicken breast, sliced thin
1 lb fresh medium shrimp, peeled, deveined, and butterflied
1 pkg fishcake tempura, sliced
1 pkg cuttlefish balls
16 oz tofu, sliced
16 oz bean thread noodles (aka cellophane noodles), rehydrated in cold water and drained
8 oz baby spinach leaves, washed
12 leaves napa cabbage, washed, trimmed, cut
1 quart chicken broth
1 quart water
extra hot water on reserve
sauce
Chinese barbecue sauce (Bullhead brand)
soy sauce
sesame oil
chili garlic paste (optional)
1 bunch green onions, washed, trimmed and minced
6 oz preserved mustard green, minced
special equipment
electric wok or electric cook pot
Pour broth and water into wok and turn temperature to high. When liquid begins to boil, add half of the noodles, half of the tofu, half of the fish balls, handfuls of spinach and napa cabbage. Cover and let return to boil. Prepare individual bowls with sauce ingredients. When soup is boiling, remove the lid and reduce heat to an active simmer. Select various meats or other ingredients to place in wok and cook. When items are cooked, retrieve them from the wok and place in your own bowl. Ladle a few spoonfuls of soup, noodles, and vegetables into your bowl. Continue to add hot water to the wok as the level decreases. Serves 6.