Thursday, April 9th, 2015

Recipe: baingan bharta (indian mashed eggplant)
Year after year, I look forward to those wonderful events that reliably happen in spring. This wackadoo teeter totter between snow storms and sunny days. The planters full of daffodils and tulips on Pearl Street in Boulder. A chorus of red-winged blackbirds by the lake that fills your ears when you run (or walk) by. Just this morning, we watched a yearling moose (following his mama) pass through the neighborhood, stopping to nibble on the young aspens in our yard.

a double daffodil on the flats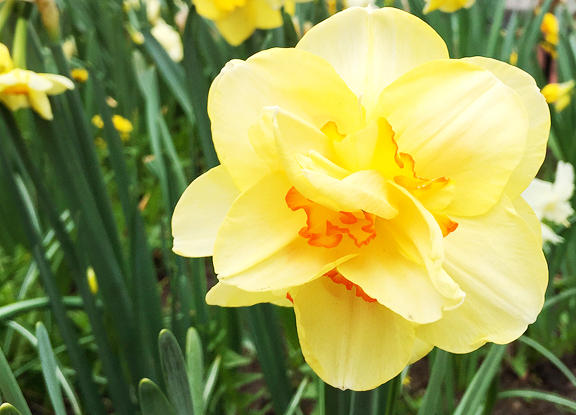 snowing and moosing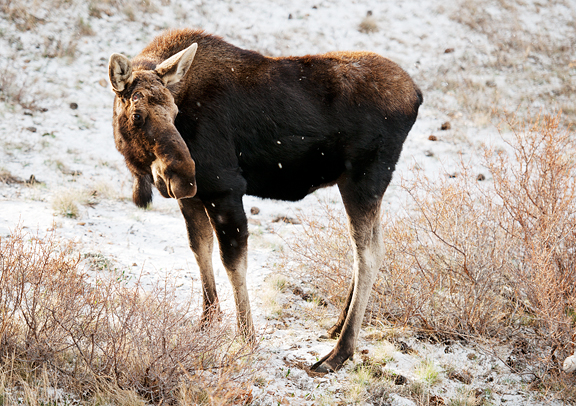 Spring is also when I have various medical appointments. It's been seven and a half years since my breast cancer diagnosis. After all of the surgeries, scans, chemo, radiation, blood draws, ER visits, and more surgeries, the aftermath seemed pretty tame. Managing lingering side effects – some temporary, some permanent – and getting on with my life, I felt that returning to normal was like winning the jackpot. And for the most part, life is normal and good. The further in time I drift from my diagnosis, the less cancer nags at the back of my mind. Dad always touts the power of positive thinking, but truth be told, that constant fear hovering over my shoulder for the first few years after treatment made me feel like I had failed. I couldn't distinguish between my scar tissue and a possible tumor. Was that cough indicative of metastasized cancer? What caused that sharp pain in my side? While the intensity of my worries has faded considerably, it is always there like a low-level noise creeping in the corner of the room, growing louder when the night is still and dark.
the waiting room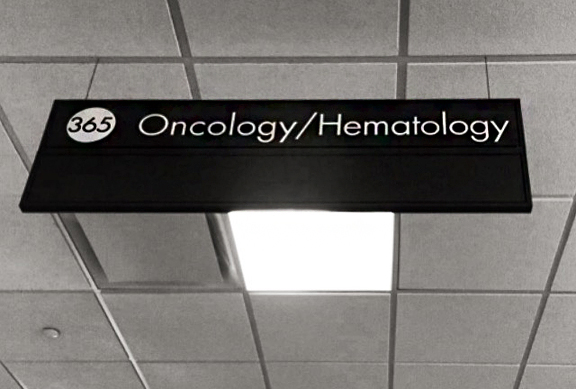 I check in with oncology on a regular basis. It used to be every 6 months and has now transitioned to once a year. It's bittersweet. When I walk in, I'm greeted by familiar smiles – all of the wonderful staff and nurses who cared for me during the infusions, gave me advice over the phone when emergencies arose, and continue to put in orders for my annual mammograms and MRIs. These are some of the nicest people you will ever encounter. This last time – yesterday – I exchanged hugs with each of them. While one asked how long it has been since I finished chemo, another was smiling and touching my ponytail. I typically ask local businesses if things have been busy, because busy is good for business. But it's sad when oncology says they've been busy. They're always busy. Cancer sucks. Eventually my oncologist bustles into the exam room like Santa Claus on Christmas doling out handshakes and hugs. He is the very best. Behind the closed door, Jeremy and I can update him with observations and questions interspersed with genuinely friendly conversation and laughs. He allays most of my concerns and follows up on the rest.
MRI in a week. Let's get an X-ray while you're here for the MRI and do blood labs after you're done here today. How was that colonoscopy?
The colonoscopy was fine because I don't remember any of it. The prep beforehand was unpleasant, but nothing compared to chemo. My instruction sheet said to stop eating all seeds, nuts, whole grains, and beans five days prior to the procedure. I thought that would be easy, but it was harder than I had anticipated. Everything in our kitchen seemed to have nuts, seeds, whole grains, or beans. The bummer was that I had made baingan bharta, a lovely Indian mashed eggplant dish, the day before. I could only stare at the leftovers in the refrigerator since the tomatoes and eggplants had loads of seeds.

onion, tomatoes, jalapeño, eggplant, lime, cilantro, vegetable oil, turmeric, salt, garlic, garam masala
prick the eggplants with a sharp knife
char the eggplants
let cool
**Jump for more butter**