Recipe: pumpkin bread pudding with bourbon vanilla sauce
Indian Summer continues her reign over here in Colorado. It's been positively beautiful weather and a perfect time to get together with old friends and meet new ones. My small group of gal pals got together for another foodista night, but this time closer to home at my beloved Frasca. Excellent food made even better with good company. The service, as usual, was beyond stellar. Extra-stellar.

frico caldo – shredded potato and cheese pancake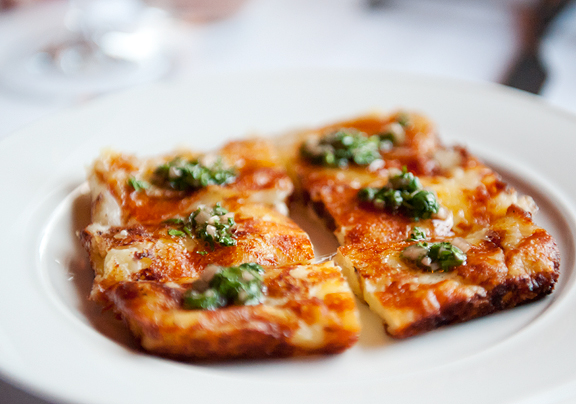 part of the wine flight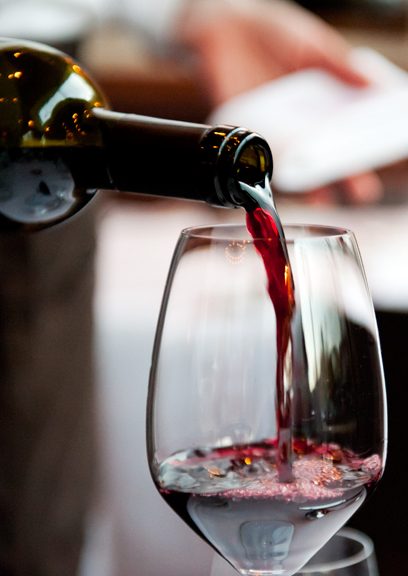 clearly having far too much fun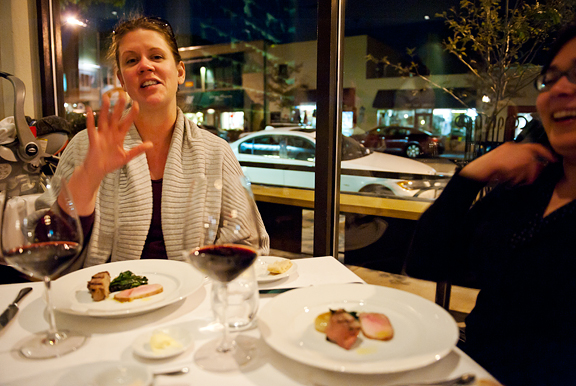 Kat stayed at my place overnight because she lives pretty far away. Kaweah was thrilled. She loves having house guests. You know… new pants to lick, new hands to sniff, someone to cuddle with and make mooney eyes at. The next morning I took Kat to the Indian Peaks Wilderness for a little hike in the snow. The sun was shining down and the powdery snow crunched underfoot. I spied ski tracks and I think I started salivating at the thought of ski season. It's great to share a favorite place with a friend and have her understand how much you love it there. Kat and I have so much in common we joke that we may have been separated at birth.
that smooth part is ice on the lake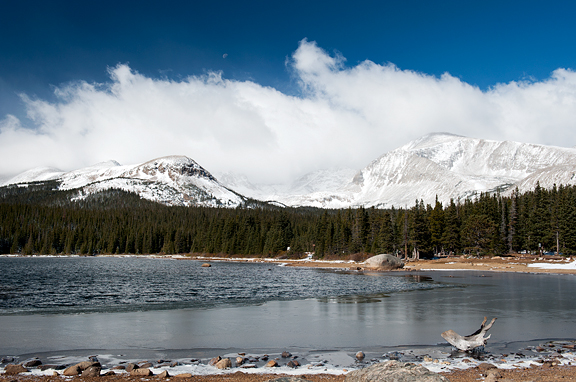 We grabbed lunch at
Sushi Tora
in Boulder before hopping over to
The Pinyon
to meet up with Kat's friend who is a professional forager (and a generally cool chick all around). I couldn't believe the beautiful stuff she found HERE – as in, SOMEWHERE IN THE WOODS. That blows my mind. I love it. I also met chef-owner Theo, a friendly and funny guy who talked about creative uses for various foraged ingredients.
gorgeous, tiny wild grapes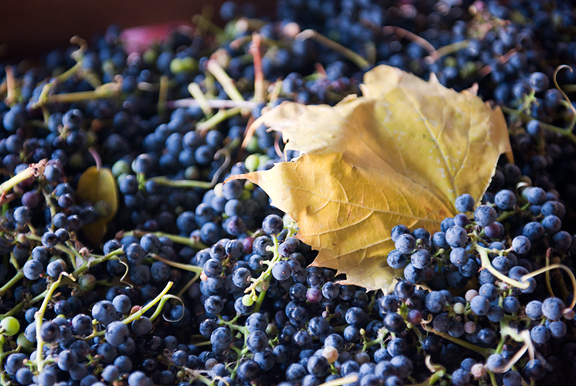 chef theo at work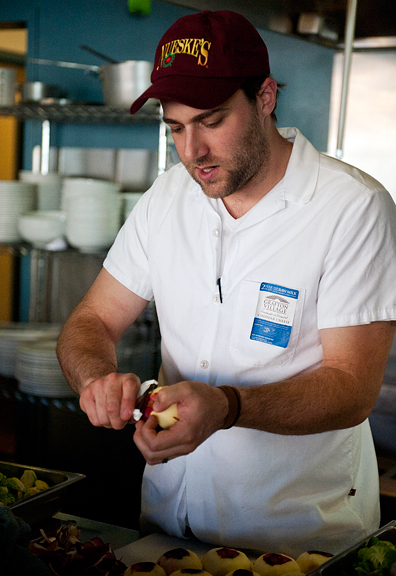 It's a super food-centric week for me because my dear friends
Todd and Diane
fly into Denver today to join me and
Manisha
at the
Denver Botanic Gardens
(their site seems to be having some server issues at the moment) for our lecture and workshop program. If you're a local, please come join us! If not, here's a (pretty good!) consolation prize… pumpkin bread pudding.
this could easily be awesome pumpkin french toast
pour melted butter over diced bread (i used challah)
Fall puts me in a mood – the best kind of mood. Warm spices, golden light, and pumpkins. I love little pumpkins because they're cute. I didn't realize until a few years ago that the cute little pumpkins were usually pie pumpkins or sugar pumpkins. When I was in fourth grade, a neighbor had dropped off a pie pumpkin at our house. It sat for a week and then I learned of a pumpkin carving contest. I carved a happy little face on the pie pumpkin and went to the neighborhood Halloween festival that night. I walked up with my pumpkin and my pace slowed as I stared wide-eyed at the masterpieces on the table. Giant pumpkins, some of them strangely deformed, carved into elaborate works of terrifying and beautiful art. I stood for a moment, unsure of what to do with my pumpkin. My pumpkin had no business being there, ever.
mix everything but the bread and butter together
don't forget the bourbon
I felt bashful and wanted to take my pumpkin home, but a friend called to me from the darkness to come and join her at the haunted house. She was decked out in glow bracelets, glow necklaces – she was looking radioactive. I set my pumpkin down on the table, trying to hide it behind the big cyclops. I was really attached to the happy little jack-o-lantern. I gave it a little pat on the head and ran off. By the end of the evening, my dad had rounded me up and wanted me to go home. It was getting late and people were breaking down the tents and booths. Walking across the soccer field I remembered my pumpkin and ran to the table. Ribbons – BIG ribbons – adorned the cyclops. Several of the other jack-o-lanterns had 2nd place, 3rd place, honorable mention ribbons taped over them. I found my happy jack-o-lantern, and it had a blue ribbon. A small one. It read "cutiest pumpkin". I was a tad perplexed at the misspelling, but little pumpkin did alright!
combine the bread cubes with the custard
pour into a baking pan
I never carved another pumpkin though, because I couldn't bear the thought of something with a face rotting away. My grandma bought me a cookie once that was iced with a happy face and I couldn't eat it. Hey, we all have our issues… But as long as there isn't a face carved onto a pumpkin, I will eat that sucker. Yes. I. Will. I love pumpkin and I love bread pudding and this is uber love right here. I couldn't believe how easy the recipe was, so I added a bourbon vanilla custard sauce to boot.
steep the vanilla bean in the milk and cream
whisk sugar and egg yolks together
I made a half recipe of the custard only because I ran out of eggs (and probably because I don't need to be consuming that much custard). If you make custard based ice creams, then you can do this one in your sleep. Temper the yolks with some hot cream, then cook the whole thing over medium heat while constantly stirring.
tempering the yolks
stir to a thickened custard
and yes to the bourbon
Let the custard cool before stirring in the bourbon. If you want a stronger custard, stir in more bourbon. You can serve it warm or cold with the bread pudding (which can also be served hot or warm).
baked pumpkin bread pudding
pour some custard over top
The pumpkin is subtle, but I love it. Jeremy isn't a huge bread pudding fan, but he had two servings of this one. Oh, and I had worried that using challah (which was fresh, not stale) would be too soft and might disintegrate, but it was great and held together very well. Just don't be too rough when mixing it together. This is one of the easiest pumpkin desserts I've ever made. I think it even beats out pumpkin pie for me.
don't get sauced on the sauce
Pumpkin Bread Pudding with Bourbon Vanilla Sauce
[print recipe]
from Smitten Kitchen
1 1/2 cups whole milk (or 1 cup heavy cream plus 1/2 cup whole milk)
3/4 cup canned solid-pack pumpkin
1/2 cup sugar
2 large eggs
1 egg yolk
1/2 tsp salt
1 tsp ground cinnamon
1/2 tsp ground ginger
1/8 tsp ground allspice
pinch of ground cloves
2 tbsps bourbon
5 cups day-old baguette or crusty bread (I used challah), cubed about 1-inch
6 tbsps (3 oz.) unsalted butter, melted
Preheat oven to 350°F with rack in middle. Toss the bread together with the butter in a large bowl. Set aside. Whisk the pumpkin, milk (and cream if using), sugar, eggs, egg yolk, salt, spices, and bourbon in another large bowl. Pour the pumpkin custard over the bread cubes and toss to coat. Pour into an 8-inch square baking dish and bake 25 to 30 minutes until custard sets. You can also do this in individual ramekins (I had extra filling). The ramekins bake faster, so start checking them after 15 minutes. Serve the pumpkin bread pudding with bourbon vanilla custard sauce. Serves 6-8.
bourbon vanilla custard sauce
1 cup milk
1 cup cream
1 vanilla bean, split lengthwise
6 tbsps sugar
6 egg yolks
2 tbsps bourbon (or more)
Heat the milk and cream in a medium saucepan until boiling. Remove from heat. Scrape the vanilla bean seeds into the hot cream. Add the vanilla pod. Cover and steep for an hour. Remove the vanilla pod and reheat the cream until just boiling. Remove from heat. Whisk the sugar and egg yolks together in a medium bowl. Temper the yolks by whisking in a few tablespoons of the hot cream at a time until you've incorporated about half of the cream. Pour the egg yolk mixture into the saucepan with the remaining hot cream/milk and stir over medium heat until the custard thickens. Remove from heat. Let cool. Stir in the bourbon. Makes 2 cups.