Recipe: roasted tomato soup
"Did you finish your taxes?"
I blinked at the nice fellow on the other side of the post office counter as I handed him my yellow pick-up slip. Oh, it's tax day! Yes, yes we finished those several weeks ago. We smiled at one another and eventually wrapped up the small talk with thank yous and have-a-nice-days. My mind was elsewhere because I had a list of things to get done before our neighbors came over for dinner. Every April, they are bustling with activity doing proper house maintenance on the exterior (something we ought to do, but tell ourselves that we can wait until May when the weather is more reliable), tidying up the yard, packing gear and equipment to take to Canada for the next 6 months where they will run their wilderness camp. And every April, we tell them, "We need to have you over for dinner before you take off!"

we started with some appetizers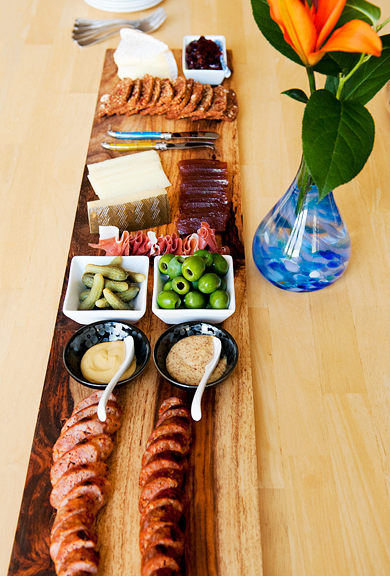 These excellent people are the best kind of neighbors: friendly, generous, considerate, fun, reliable, kind, genuine. Instead of our usual quick conversations in the driveway as we're coming and going, we could relax and enjoy a few hours together over good food and wine. We miss them in summer, when our neck of the woods is at its greatest splendor. "Walk home safely!" I joked after them as they stepped into the night. The snow was just getting started after several warm and sunny days, materializing out of the darkness as it fell into our porch light's sphere of illumination.
flowering trees on the flats just a few days ago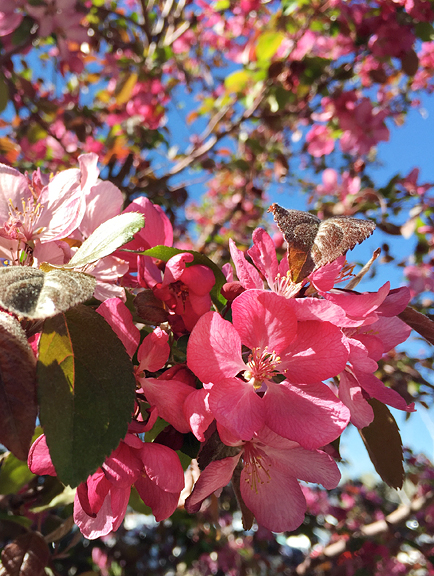 and now, proper snow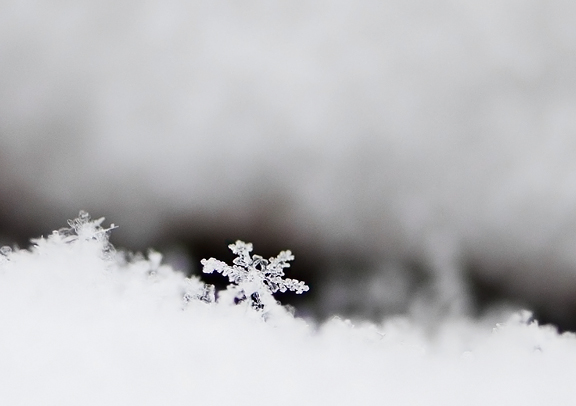 I've learned to contain my excitement about the snow until it's here, on the ground, and accumulating. The skis are ready, but we must be patient and wait for the base to rebuild. It might be a few hours. It might have to be tomorrow. In the meantime, we opt for hot soup over a fresh salad while the world outside turns silent and white. Soup. I love all manner of soup. Digging deep into my childhood, tomato soup was the default on those rare snow days in Virginia. Of course, it came out of a can with a red and white label. It only took me a few decades to realize the beauty of making my own tomato soup, and then a few more years to discover the flavorful roasted version. It's easy. I'll show you.
olive oil, pepper, chicken broth, red pepper flakes, garlic, thyme, tomatoes (not pictured: salt)
chop the herbs, pick out the garlic cloves
halve the tomatoes
wrap the unpeeled garlic in foil
Without a doubt, the essence of the soup will be superior if you use tomatoes that are in season, but tomatoes around here are in season during the summer. I neither want to run my oven nor drink hot soup in summer. So I'm using store-bought Roma tomatoes that get a big boost in tomato flavor from the roasting process. Roasting makes everything better. The tomatoes go into the oven for an hour or so. Chuck that foil packet of garlic onto the pan, too. Just a word of warning, put the tomatoes in the oven slowly. I swung around a little too quickly and a couple of my tomato halves went flying off the baking sheet because of the olive oil.
arrange the tomatoes on a rimmed baking sheet and season with salt, pepper, and olive oil
roasted and intensely tomatoey
buttery roasted garlic
let's make soup
Once the tomatoes and garlic have been transformed into flavor-bombs, place them in a blender or food processor with any excess juices that have accumulated on the baking sheet. This is why you used a rimmed baking sheet – juicy. Purée the goodies. If you like a chunkier soup, then stop shy of a proper purée. If you prefer a smooth soup, then blitz that sucker all the way. Combine the purée with the chicken broth, herbs, and spices and simmer it for about 30 minutes. That's it!
a blender makes quick work of the purée
pour into a medium saucepan
add the broth
stir in the thyme and red pepper flakes
Roasting the tomatoes makes for a sweeter, more intense tomato soup. The addition of the roasted garlic lends some nutty butteriness. If you aren't a fan of garlic (how is this possible?) then you can omit it, but roasted garlic is so different from its original unroasted form that I recommend at least giving it a try before dismissing it. In the end, you'll have yourself a luscious bowl of hot soup that is an upgrade of what we all grew up on. And don't forget the grilled cheese on the side!
a simple bowl of soup
simply wonderful
Roasted Tomato Soup
[print recipe]
from Smitten Kitchen
3 lbs. plum tomatoes, halved lengthwise
2 tbsps olive oil
sea salt
black pepper, freshly ground
4 cloves garlic, unpeeled
4 cups chicken or vegetable stock
1 tsp fresh thyme, chopped fine (or 1/4 tsp dried thyme)
1/4 tsp crushed red pepper flakes
Preheat oven to 400°F. Wrap the garlic cloves in a tight foil packet. Arrange the tomatoes, cut-side up, on a rimmed baking sheet (I lined mine with aluminum foil). Sprinkle the tomatoes with salt and pepper, then drizzle with olive oil. Tuck the garlic packet somewhere on the baking sheet. Take care when moving the tomatoes to the oven – the olive oil makes them very glidey. Roast the tomatoes for about an hour until they are browned and tender. Remove from the oven (the garlic, too).
Peel the garlic cloves. Place the garlic, tomatoes, and any juices from the pan into a blender or food processor. Pulse into a rough purée and pour into a medium saucepan. Add the stock, thyme, and red pepper flakes. Bring to a boil over medium-high heat and then reduce to a simmer. Simmer uncovered for 25 minutes. Serve hot. Serves 4.

more goodness from the use real butter archives