Recipe: sparkling champagne margaritas
The sight of snow on the Rocky Mountains represents "normal" in my mind. The months of brilliant snow-covered peaks outnumber those months of naked rock. So when I climbed to the high point of my trail run the other day and caught a glimpse of Glacier Ridge in full white, I couldn't help but smile and mutter "beautiful" aloud. Sun, blue skies, and warm days have returned (again), but our mountain home gets nice and chilly at night. Our favorite neighbors are home from running their summer camp deep in the Canadian wilderness. This evening I welcomed their walking carpet of a dog back with hugs and ear rubs (she's a Great Pyrenees-Bernese Mountain Dog mix). The older we get, the more Jeremy and I cherish having good neighbors. We look out for one another, I like to dessert-bomb them, and it's great when we can get together over a glass of wine or dinner.

kicking off a dinner party in crested butte with eileen's margaritas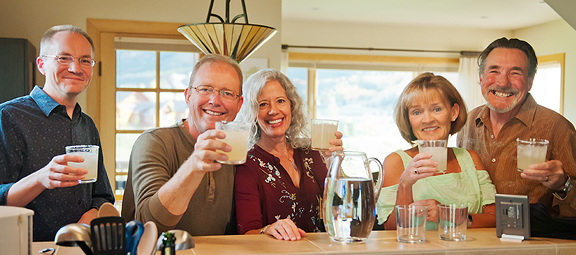 When Jeremy and I hosted a New Mexican food-themed party at our place in Crested Butte last month, it was a team effort. Wendy made Spanish rice, spicy refritos, and brought fresh tortillas. Eileen brought a corn and avocado salad, wine, and champagne margaritas. Neither Jeremy nor I are huge fans of margaritas. I'm just not a drinker and Jeremy thinks they are too caustic. But when Eileen offered Jeremy a champagne margarita, he accepted – because… champagne (actually, it was a lovely sparkling wine). He liked it. A LOT. Eileen told me it was a Rick Bayless recipe and a nice change up from the standard margarita. I took a sip from Jeremy's glass and had to agree. Very nice. VERY drinkable. Way to class up the old marg!
tequila, cointreau, bubbles, limes, kosher salt, sugar
zest the limes
lime juice, cointreau, tequila, lime zest, sugar
I don't have a bar, let alone a properly-stocked bar. Instead, there are a couple of cabinets stuffed full of random bottles of booze which were appropriated for the purpose of making (mostly dessert) recipes or hosting parties. When Rick Bayless' recipe specifies silver tequila, I am ecstatic when I have any kind of tequila in my pantry. The margarita part of the recipe is simple and trumps any pre-made margarita mix. You just can't beat that fresh lime juice. You can't. I whipped up a half batch of the recipe because I couldn't see Jeremy polishing off EIGHT margaritas before the bubbles went flat. But if you have willing imbibers, then please make a full recipe or even double it.
pouring the tequila into the lime zest and cointreau
add the lime juice
stir in some sugar to taste
Mixing the margarita takes all of three seconds. Then you will need to let it chill in the refrigerator for an hour (at least). This is an extremely low maintenance kind of cocktail – my favorite type! When you are about ready to serve the drinks, wipe the rims of the serving glasses with a lime wedge and dip the rims in kosher salt. Maybe you aren't a fan of too much salt with your margarita (but it's really quite nice) – salt half the rim, or none at all. Pour about 3 ounces of margarita in each glass.
wipe the rims
dip in kosher salt
pour some margarita in each glass
Get your chilled bottle of champagne, sparkling wine, cava, prosecco, and pop that cork. It goes without saying that you probably don't want to use a really high end bottle of bubbles on this cocktail. We've had it with a nice sparkling wine as well as a really mediocre cava. I'd say save the nice bottle for some good charcuterie and cheeses and use the cheaper bubbles on the margaritas. It actually improves the imbibability of the lesser sparklers. I just made up a word.
open the bubbs
top off the margaritas with your sparkling beverage
"The whole is greater than the sum of its parts" really rings true here. We're both meh on margaritas and mediocre bubbles, but put them together and you have a delightful, bright, and refreshing cocktail. It's especially well-suited for parties because you can mix the margaritas ahead of time and break out the champers when it's time to serve. There are margaritas and then there are champagne margaritas. Think of it as an upgrade.
garnish with limes
a little fizz and a little zing
Sparkling Champagne Margaritas
[print recipe]
from Rick Bayless
zest of 2 limes
1 cup fresh lime juice
1 cup Cointreau
1 cup silver tequila (I used gold – it's what I had)
2-3 tbsps sugar, to taste
lime half or wedge
kosher salt for dipping
1 bottle of champagne or sparkling wine, chilled
Combine the zest, lime juice, Cointreau, and tequila in a pitcher. Stir in sugar to taste. Cover and refrigerate for at least an hour until completely chilled. Wipe the rim of each glass with the lime half or lime wedge. Place the kosher salt in a small shallow dish with a diameter bigger than the diameter of the glass. Dip half or three-fourths or all of the glass rim in the salt to coat. You can strain the zest out of the margarita, but I left it in the cocktail. Pour 3 ounces of margarita in each glass and top with chilled champagne or sparkling wine. Serves 6-8 (depending on the glass).
more goodness from the use real butter archives