Recipe: blueberry scones
Right now, part of my work involves getting up early and hiking to alpine basins to assess the state of the wildflowers. You don't always hit pay dirt, but I like that it gets me outside into the backcountry and that I'm not sitting on my bum all day. And in summer, you're almost always guaranteed to be greeted by many familiar friends in the high country. I saw several favorites up high in marshy alpine meadows.

mountain bluebells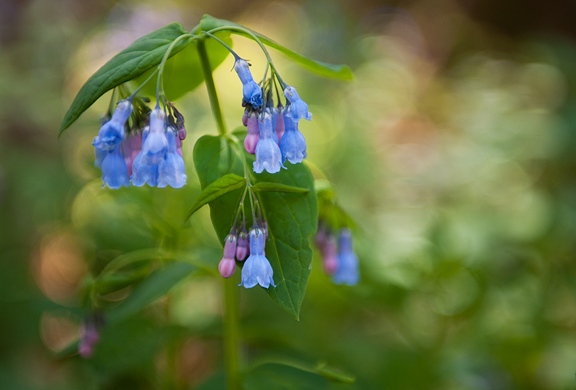 magenta paintbrush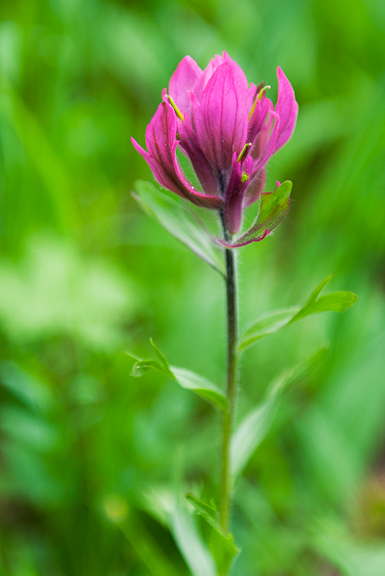 I paid the price for those flowers too… in blood, so to speak. I wake up each morning with new mosquito bites despite my efforts to don pants and long-sleeves when I'm hiking and photographing. I have two requests for enterprising individuals: 1) please make a sunblock that I can take in pill form and 2) please make a mosquito repellant that I can take in pill form. I would pay good money for those things. And some mornings I want to see things a little faster than the pace of a hike, or even a trail run.
mountain biking makes it harder for the mosquitoes to get you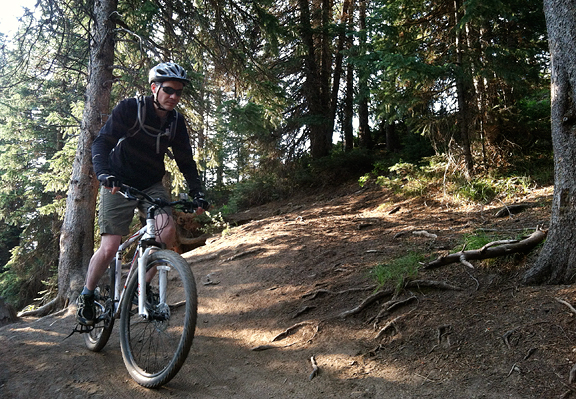 and then you ride to the local coffeehouse and wait in line with a random cute dog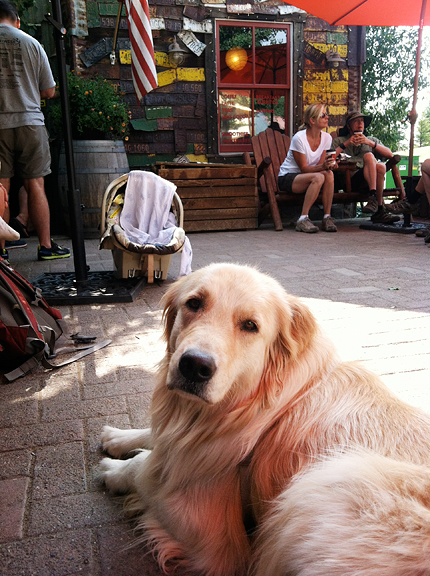 Another part of my job is knowing when certain slopes or basins are reaching peak bloom and what time of day or which conditions are ideal for the images I want to capture. It starts to feel a little frenetic if you cover a wide area, especially if it takes half the day to reach some of these places. And by evening, when the mosquitoes are in their swarming frenzies, my mind often wanders to questions like, "Why haven't more creatures evolved to hunt and eat mosquitoes?" Why, indeed.
tall larkspur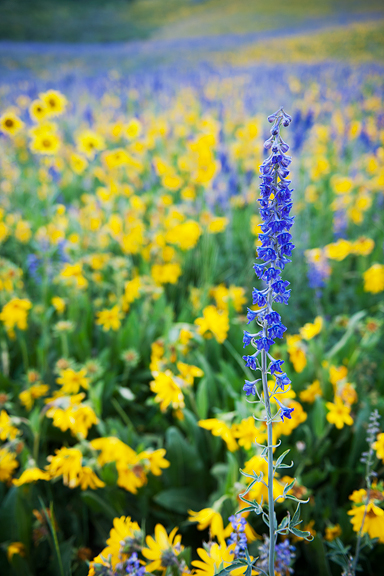 iphone behind the scenes (courtesy of jeremy)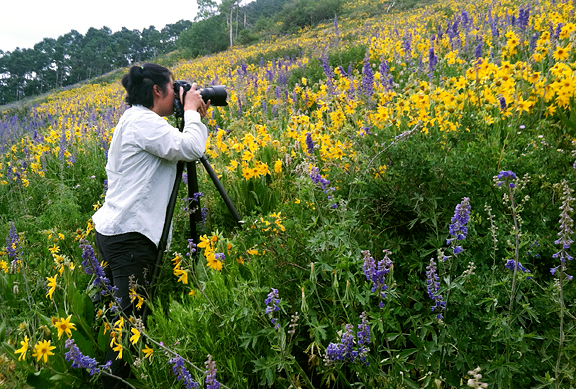 Jobs have been on my mind lately because I recently sent a package of baked goods to my friend,
Jamie
, to thank her for the beautiful cutting boards she made. I sent it USPS priority and they said it was delivered two days later – except she never received it. She inquired after the package and with a little digging, I think the USPS realized that THEY SOMEHOW LIED ABOUT THE DELIVERY because they found the package and gave it to her 11 days after it was supposed to have been delivered. WTH?! More like USPOS. Of course, the baked goods were dead on arrival, because they were blueberry scones made with fresh organic blueberries. Smooth move, USPS. At least I had sense enough to send the second package via UPS (and those guys wear cute brown shorts). So let's make some blueberry scones and have sense enough not to entrust them to the US Postal Service EVER AGAIN.
you'll need: blueberries, flour, butter, lemon, eggs, sanding sugar, granulated sugar, baking powder, salt, cream, and vanilla
whisk the flour, sugar, baking powder, and salt together
cut the butter into the flour
grate lemon zest into the dry mixture
Apparently, these scones are supposed to be like the ones they sell at Starbucks. I don't actually know what they sell at Starbucks because 1) I don't drink coffee and 2) we have far too many awesome and independent coffee houses in Boulder. That said, I love to make scones because they are so quick to throw together! But I've never made them with fresh berries before.
whisk the cream into the egg and vanilla
combine the wet and dry ingredients
fold in the blueberries
The important thing is to avoid manhandling the dough and the berries. Work the dough too much and your scones will not achieve that nice tender crumb. Be gentle with the blueberries or else they will get squashed and turn parts of the scone dough soggy. Turn the dough out onto a lightly-floured work surface and make two flattened rounds. Cut each round into eighths or however you want the shape to be. I tend to prefer triangular scones, myself. Brush each scone with egg wash and sprinkle with the sanding sugar.
slice the dough rounds
eighths are nice little pie shapes
egg wash
Scones have a tendency to spread a little, so give them space on the baking sheet. I'd also recommend lining your baking sheet with parchment paper because blueberries ooze juice during the baking process and this gets burned onto the baking sheet. Check that the tops and bottoms are golden before taking the scones out of the oven. Let them cool on a cooling rack or else the residual heat from the baking sheet might burn the bottoms.
time for baking
golden and gorgeous
These scones make for a nice breakfast, snack, tea, or even dessert. And there is no better time to make them than when blueberries are in season and at their sweetest. Jeremy loved them and I had to instruct him not to sample too many as I intended them for Jamie. Such a shame the USPS had to botch the gift.
a nice little snackity snack
Blueberry Scones
[print recipe]
based on this recipe
2 cups all-purpose flour
6 tbsps sugar
2 tsps baking powder (1 tsp @8500 ft.)
1/2 tsp salt
1/2 cup cold butter, cut into 1/2-inch cubes
1 lemon, zest of
1 egg
1/2 cup heavy cream, chilled
1 tbsp vanilla extract
1 pt. blueberries, fresh
1 egg, beaten
2 tbsps sanding sugar
Preheat oven to 375°F. Sift (I just whisked) the flour, 6 tablespoons of sugar, baking powder, and salt together in a medium bowl. Cut the butter into the flour mixture until it resembles a coarse meal. Mix in the lemon zest. Set aside. In a large bowl, whisk the egg, cream, and vanilla extract together until blended. Stir in the dry ingredients until just combined. Fold the blueberries into the dough. Turn the dough out onto a floured work surface and form two large rounds of dough about 7 inches in diameter each. Cut each disk of dough into eighths (pie slices). Place the scones on a parchment-lined baking sheet at least an inch apart. Brush the tops of the scones with the egg wash (the beaten egg) and then sprinkle sanding sugar on top. Bake for 17 minutes or until golden. Remove from oven and cool on a cooling rack. Makes 16.
more goodness from the use real butter archives