Recipe: build your own cheeseboard
My parents did a lot of entertaining when I was growing up. It was something I was vaguely aware of as a little kid. Kris and I would belly flop onto my parents' bed and watch television until we heard the adults move to the dining room for dinner. At that point, Kris would nudge me and say, "Come on, let's go downstairs." We'd sneak into the kitchen unseen by the guests (but always seen by Dad, who would flash us one of his goofy smiles as we tiptoed down the stairs) and nosh on whatever was left of the appetizers: smoked oysters, cheese, crackers, olives, caviar. Party food.
Mom and Dad still entertain to this day, so I found it amusing when Dad texted me last year asking what goes on a cheeseboard. He wanted ideas since I had plated a few during various dinner parties they had attended. I grabbed some photos from my archives as well as a handful off of Pinterest to give him some inspiration. When I threw Dad's belated birthday party at our place last weekend, I made sure to kick it off with a nice cheeseboard because I know my Dad loves a cheeseboard packed with ALL of the goodies.
The holidays are upon us and that means party season is in full swing. Cheeseboards are a lovely way to get a dinner party started or to act as the workhorse for a cocktail party or to keep family and friends occupied as you rush to cook Thanksgiving dinner. If you are looking for ideas to spark your own cheeseboard artistry, I list and show some of my favorites here. There is enormous flexibility in cheeseboards, including not having any cheese!

neva wants to become an olympic cheeseboarder [note: grapes are toxic for dogs]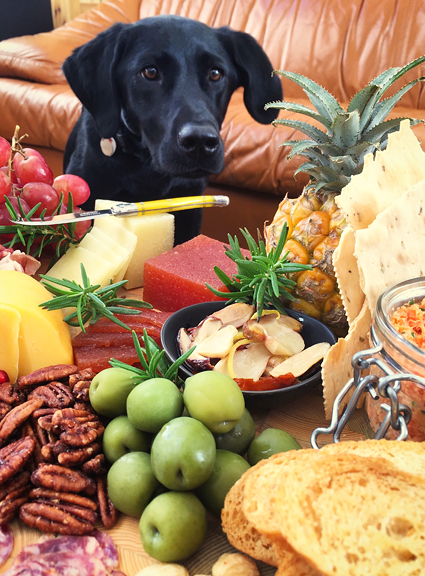 Let's start with the actual board. The board can be a plate (porcelain, glass, etc.), slate, wood, whatever you like! Plates are the easiest to clean – especially if you serve things that are oily or messy directly on the board. And slate is great for writing the names of cheeses with chalk. I am partial to wood boards because of the beautiful natural colors and grain, which is why I have a lot of them. Some are gifts from my friend,
Jamie
, who is an incredibly talented woodworking artist. Occasionally, I use my largest Boos cutting blocks (24×18-inch walnut and 20×15-inch maple) because they give me the greatest surface area.
If you do have something oily like hot smoked salmon, and you don't want the oils to soak into your nice wood boards (because let's face it, once the board is out, it doesn't get cleaned up until after the last guest leaves), you can slap a small plate underneath it to keep the fishy smells out of the wood. And remember, cheeseboards don't have to be these gigantic cornucopias that can feed the whole neighborhood. Small cheeseboards for two are romantic. Medium cheeseboards for a cozy gathering of close friends work very well without being overwhelming. So don't go crazy, but… you can go a little crazy.

you can serve on plates or slate
wood boards: an array of shapes, sizes, and designs
The fun part of cheeseboarding is picking out what to serve on your cheeseboard. It's whatever you want it to be. I personally like the cheeseboards that don't have much if any cheese because I don't dig on eating cheese straight up. But I know the majority of my guests love cheese, so there is always at least one soft, one semi-soft, and one hard cheese. I also have friends who have Celiac disease, so I can either omit all gluten items (mostly crackers and breads) or plate those separately to avoid contamination of the gluten-free items.
Another nice thing about cheeseboards is that they can be as labor intensive as you like – or not! Just about everything can be purchased, but sometimes it's nice to add your own personal touch. I always make my own crostini and I usually make those prohibitively expensive fruit, nut, and seed crisps unless I am slammed for time. Grissini happen to be quite easy to make at home, too.
I find fruit and fruity things pair well with various cheeses or act as a nice palate cleanser between nibbles. I don't make my own fruit, but I do make my own fig and brandy jam every summer to serve with brie throughout the year. I have made membrillo, a delectable quince paste in the past to pair with manchego, but it requires a lot of work at my elevation, so I have resorted to purchasing it now that more stores carry it. In late summer, I love it when I can find good fresh figs. Lots of folks like figs with blue cheese and honey, but I tend eat them straight or with a little slice of prosciutto. Another crowd pleaser is baked brie with fresh cranberry sauce or fig jam or tomato jam. Goat cheese and jam is also a hit.

cheeses: aged cheddar, smoked gouda, brie, boursin, manchego
some gluten options: croccantini, brioche toasts, grissini, crostini, fruit and nut crisps, sliced baguette
fruity things: pomegranate, fig brandy jam, grapes, apple, membrillo
Now we get to my favorite things – savory items (mostly). I make note of reactions to what I serve at every party. You know what almost all of the men make a beeline for first? Meat. Salumi, grilled sausages, prosciutto – they scan the board with big happy eyes and begin sampling this and that and come to the kitchen to inform me that everything is delicious. Sometimes I'll include hot smoked salmon, but that's usually for big parties or when there are flexitarians (eat fish and chicken but not red meat) in our midst.
Non-vegetarian spreads include pâtés, terrines, rillettes (typically pork) and salmon rillettes. I make the salmon rillettes myself because I've never seen them in the markets. I actually consider Boursin cheese to be more of a spread than a cheese, if that makes sense. And while we're talking about spreads, dips – both cold and hot – are fair game. Cold dips might include hummus, baba ganoush, spinach dip, white bean dip, toum (Lebanese garlic sauce). You can serve crudités or pita with these. Hot dips will probably need to be served separately from your cheeseboard so you don't melt neighboring items. Some of my most popular hot dips include sweet onion dip and its cousin chorizo sweet onion dip, artichoke dip, green chile dip, and chanterelle mushroom dip. I serve crostini or sliced baguette or tortilla chips (especially for gluten-free folks) with the hot dips.
Nuts make for great little bites, and my favorite are Marcona almonds. The rosemary Marcona almonds at Trader Joe's are fantastic. Candied nuts or spiced nuts (sweet or savory) are nice to have on offer, or you can always go with the classic cocktail peanuts or salted mixed nuts. They work well in a little pile or a small bowl.
Let's not forget pickled, brined, and marinated things! Olives are pretty standard. I prefer the buttery flavor of the castelvetrano olive, but a classic mix of olives goes well with any cheeseboard. I like to pickle things, so there is usually some sort of homemade pickle on my cheeseboard at any given time: pickled okra, pickled red onions, pickled blackberries. Cornichons are a must, but I buy those. Marinated mushrooms, roasted peppers, artichoke hearts, sun-dried tomatoes – all good, especially if you are leaning toward Mediterranean flavors.

for carnivores: hot smoked salmon, prosciutto, assorted salumi (fennel, truffle, chorizo, calabrese)
nuts and spreads: pate, salmon rillettes, marcona almonds, candied pecans
pickled/marinated/brined things: assorted olives, castelvetrano olives, marinated mushrooms, cornichons
So how about a few examples of smaller, simpler cheeseboards? I am inclined to set out a small board if the sit down dinner has multiple courses. It's also great to tide guests over until everyone trickles in and is ready to be seated. I'll also make a little cheeseboard for Jeremy on special occasions so he can sip some bubbles or a nice wine before dinner. The smaller the board, the less I feel the need to cram everything together. These are super laid back and easy.
cornichons, olives, tartufo (truffle salumi), chorizo, aged cheddar, smoked gouda
grissini, prosciutto, horseradish crème fraîche, castelvetrano olives
holiday grapes, finnochiona (fennel salumi), chorizo, tartufo, smoked gouda, manchego, membrillo
Sometimes the cheeseboard is the appetizer. For medium size groups or to keep guests busy upon arrival, use a bigger board and pack it with more stuff. I'll leave a wedge of cheese on the board with the first few slices and a cheese knife if folks want more. I have found that people will consume more cheese if you start with more slices – maybe my guests are just shy? For soft cheeses, I leave them intact with a soft cheese knife nearby. I also cluster paired items together on the board like the membrillo and manchego or the brie, fig jam, and crisps. Usually the larger the board the more garnishes I employ. I saw this baby pineapple at the store and had to get it because… baby pineapple! Definitely eat the darn thing after the party is over. As for herbs, rosemary is the hardiest as it doesn't wilt much if at all. For the best rosemary sprigs, trim them off a plant rather than buying the packaged stems that are squashed flat. You could walk outside and grab some spruce tips or pretty branches from your yard, but I try to avoid introducing any unexpected guests (i.e. bugs) onto the food I'm serving.
16-inch medium board: grapes, baby pineapple, crostini, candied pecans, pomegranate arils, manchego, membrillo, castelvetrano olives, marcona almonds, prosciutto, fruit and nut crisps, fig jam, brie, cornichons, apple
Then there is the meat board. There is zero cheese, just protein and fat and sodium. When I assembled and photographed this board, Neva cried and cried and cried because she knew that this was the board that (her) dreams are made of. Don't worry, she got a little prosciutto. I could tuck crackers and sliced baguette in and around the other items, but I think it makes quite a statement on its own. The crackers and bread can happily occupy their own little board.
salmon rillettes, hot smoked salmon, pâté, prosciutto, assorted salumi, mustards, grilled chorizo and bratwurst
from the side
Finally, there is The Big Kahuna. It's like a self-serve feeding station. Some guests will gather selections from the board, then mingle, then return to refill and mingle some more. Others will park themselves squarely next to the board and chat with folks who meander by or simply proceed to sample every item. It's all good as long as no one breaks into fisticuffs. When the boards are large, I think they look better with minimal empty space. I put the fig brandy jam, salmon rillettes, and marinated mushrooms in their own little bowls because they are messy, but everything else is touching. This may be problematic for people who don't like their foods to touch, but most of the people I know like that are five years old.
For assembly, I generally place the cheeses, membrillo, bowls, and fruit down first (except the pomegranate seeds – they are in the last wave). Then I arrange crackers near their intended partners. Next I fan out the salumi and stack the little ribbons of prosciutto. The piles of olives, cornichons, nuts, and pomegranate seeds are laid out before placing rosemary sprigs where there is empty space or a splash of color is needed. Make sure that anything requiring a serving spoon, a fork, toothpicks, or knives and spreaders has what it needs to avoid abuse.
That's pretty much it! The wow factor is quite big considering the amount of work it takes to put a cheeseboard together. So if you are gearing up for party mode, make sure you have this arrow in your party quiver for the upcoming holidays and beyond. It will serve you and your guests well.

holiday grapes, manchego, membrillo, baby pineapple, croccantini, green grapes, fruit and nut crisps, salmon rillettes, marinated mushrooms, smoked gouda, prosciutto, apple, aged cheddar, mixed olives, pomegranate, candied pecans, castelvetrano olives, crostini, fig and brandy jam, brie, marcona almonds, assorted salumi, cornichons
mid angle view
from above
Build Your Own Cheeseboard
[print recipe]
The hardest part of making a cheeseboard is deciding what to put on it. If you are short on time, you can purchase everything you need. If you want to add your own personal touch, make some of the items yourself. If folks have dietary restrictions, you can keep things like nuts, crackers/breads, seafood, or meats on a separate board or omit them entirely. Here are some components to get you started.
cheeses
soft cheeses like: Boursin, brie, Camembert, goat cheese, Gorgonzola, mozzarella, triple crème
semi-soft cheeses like: Gouda, Gruyere, jack cheese, Stilton
hard cheeses like: aged cheddar, Asiago, Manchego, Parmigiano-Reggiano, Pecorino Romano
meats
duck prosciutto
prosciutto
salumi
sausages
hot smoked salmon or trout
dips and spreads
babaganouj
hot dips
hummus
pâté
rillettes
spinach dip
white bean dip
crackers, breads
baguette, sliced
croccantini
crostini
fruit and nut crisps
grilled sliced bread
grissini
herbed crackers
water crackers
wheat crackers
fruit and sweet things
apple slices
dried apricots
dried cranberries
dried dates
fig jam
figs (fresh or dried)
grapes
honey
membrillo (quince paste)
pear slices
pomegranate arils
quince jam
nuts
candied pecans
candied walnuts
candied almonds
cocktail nuts
marcona almonds
spiced nuts
pickles, brined things, marinated things
cornichons
marinated artichokes
marinated mushrooms
marinated roasted peppers
olives
pickled beets
pickled blackberries
pickled onions
vegetables
broccoli florets
cauliflower florets
carrots
celery
cherry tomatoes
cucumber
jicama
peppers
garnishes
baby pineapple
fresh cranberries
fresh herbs (rosemary holds up well to wilting)
grapes
kale
Choose an appropriately-sized board or plate for the ingredients you have selected. Arrange your cheeseboard components. Set garnishes in the empty spaces.
more goodness from the use real butter archives