Tuesday, March 12th, 2019

Recipe: blood orange sorbet
Who is excited for spring? Normally I'd be giving you all the stink eye, but I think I know why I, too, look forward to the vernal equinox this year. It's because we've had a really good and snowy winter. Some years we get shafted on a proper winter and the arrival of March sounds like parents telling kids they have to leave the amusement park after two hours of standing in line and not even getting on the ride. But this winter brought the goods!
The time change last weekend threw us for a little loop and now we are totally into it. The best part is the dogs don't know about the time shift! They are sleeping later (not really, but yes) and not demanding dinner until much later. It's fantastic. Also, we have rearranged our bedroom furniture so that Yuki sleeps in a (big) crate at night and Neva's bed is next to the crate and gated off. Containing the dogs overnight makes ALL the difference between a good night's sleep and walking around sleep-deprived with back aches and a crick in your neck the next day. Now they hop on the bed in the morning AFTER we have rested.

sometimes i find them napping together after a romp in the snow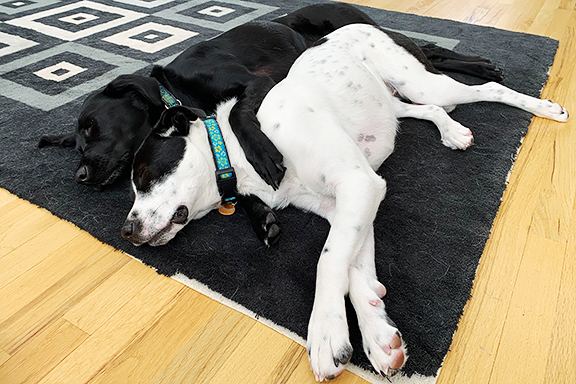 yet another powder day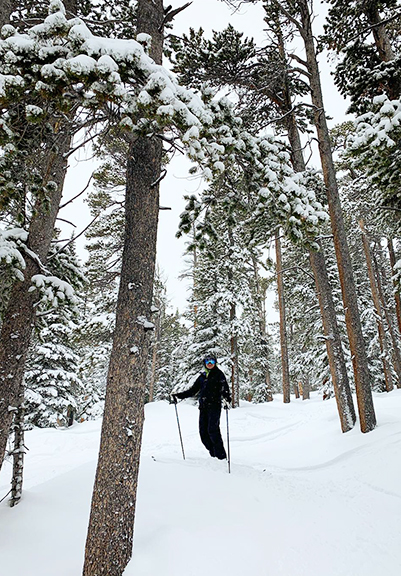 A storm is about to barrel down on Colorado, but I am feeling spring-ish. Blood oranges are in season winter and spring (depending on the variety), and I couldn't help grabbing a bag at the store a few weeks ago. Maybe you only indulge in sorbet when the weather is hot, but I love it all year. Even if you think the cold weather negates making sorbet, I have good news: you can freeze the juice and zest (separately) until the weather grows hot enough to warrant, nay – DEMAND, a batch of refreshingly bright blood orange sorbet.
blood oranges, lemon, sugar, grand marnier, water
zest one of the oranges
juice the oranges
**Jump for more butter**