I know all of the planners out there pretty much know what they are serving for Thanksgiving by now. We have no idea what we're doing for Thanksgiving dinner, but that's by choice (because, skiing…). So no wah wah trombones here! And besides, we are spending the weekend eating fabulous food with family. Because it isn't the day so much as what you're eating, what wine(s) you're pairing with what you're eating, and with whom you are dining.

for kaweah it's all about what she would like to eat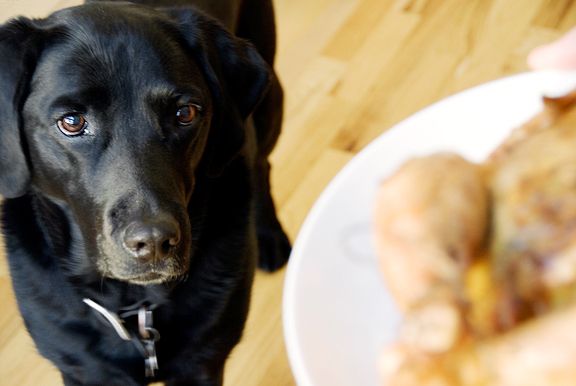 In case you are looking for recipes, ideas, or inspiration, I've compiled a selection from my archives that are as Thanksgiving as I get. As you well know, I am not a traditionalist. Just remember: variety is the spice of life!
appetizers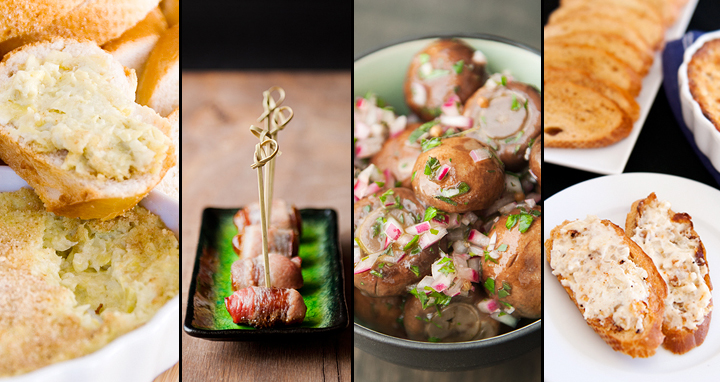 Artichoke dip
: This is a classic hot and cheesy dip to serve with crackers, crostini, sliced baguette, or even tortilla chips. Total winner.
Bacon-wrapped Boursin-stuffed dates: If you have some oven time and space, these may be some of the lowest effort to wow-factor ratio appetizers on the planet. I mean, we're talking BACON. Don't have Boursin cheese? No problem – stuff a little stick of Parmesan in there. Or a sliver of almond. Or don't stuff the date at all and just wrap it in bacon and bake. If you don't pit the dates, I do suggest letting your guests know, to perhaps save them some dental work.
Marinated mushrooms: These are best made ahead of time to ensure the mushrooms soak up all of the good flavors. Also super easy.
Sweet onion dip: I first had this dip at a little dinner party that Todd and Diane threw for me. I asked for the recipe right away and have been serving it to guests ever since. It's called crack dip for a reason.

bready things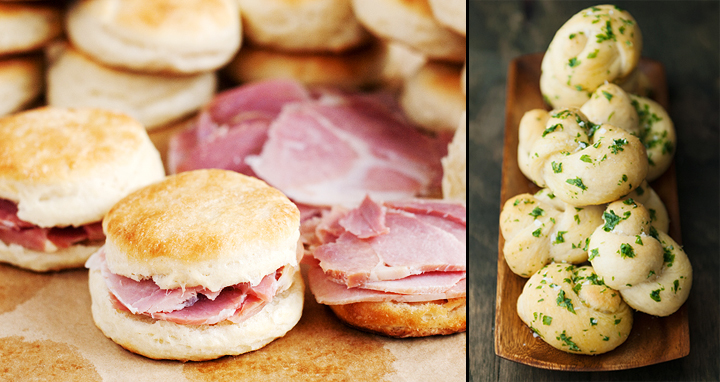 Angel biscuits
: These are the closest biscuits I could find to the coveted silver dollar biscuits in southern Virginia. They go particularly well with Virginia ham (yes, that salty salty wonderful ham), but are fantastic with honey ham, in place of rolls, as well as straight up into your mouth.
Herbed-garlic knots: From Todd and Diane's book Bountiful, these nuggets of bread are irresistibly buttery, garlicky, and bright.

salads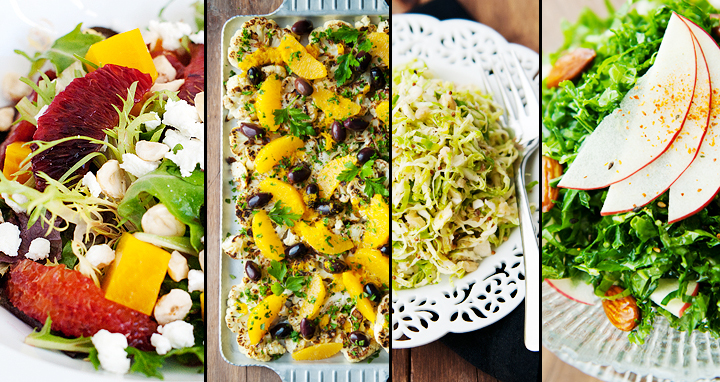 Beet, chèvre, hazelnut salad with blood oranges
: It seems the only salad mentioned at most Thanksgiving tables is a jello salad, and that makes me sad… and little ill. This is an especially bright and satisfying salad to add some color to the meal. All of the components can be prepped ahead of time.
Roasted cauliflower salad with olives and oranges: My girlfriend Denise served this at a gathering last year and I think I ate half of it (and there were 10 of us). Another great make-ahead dish that has elements of briny, sweet, tangy, and that earthy, almost buttery flavor of roasted cauliflower.
Shredded Brussels sprouts salad: The oft-maligned Brussels sprout is the star of this salad. Crunchy and fresh, it is paired with citrus, cheese, and nuts for a great combination of flavors and textures.
Shredded kale salad: I eat a lot of kale and I like it, but this is perhaps my absolute favorite kale salad and it is crazy simple. I like the version I cobbled together, but the original recipe from Oak is the one I always make. It's fabulous.

soups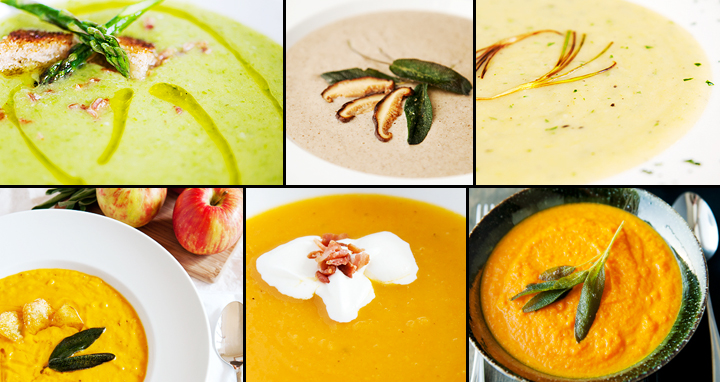 Asparagus soup
: Yes, soup! I don't see it on most Thanksgiving menus, but it can also be tough to serve to large groups of people. Even so, if you have a hankering for soup, a simple asparagus soup purée tastes great and adds some nice green to the meal.
Cream of mushroom soup: There really isn't anything more heavenly than a creamy mushroom soup and this one is chock full of a variety of mushrooms.
Potato leek soup: Maybe you aren't a fan of mashed potatoes, but want a potato dish? Or maybe you ARE a fan of everything potato! This soup is easy to make and wholly satisfying without being too heavy.
Pumpkin soup: Everything pumpkin at Thanksgiving… but this sneaks in some additional vegetables, apples, and bacon. BACON.
Roasted butternut squash soup: In keeping with orange soups, here's another squash turned into soup. It's easily converted to vegetarian or vegan and includes apples.
Roasted carrot and ginger soup: A recent post and new favorite soup in our house. What makes this one so delightful is the warming ginger along with the sweet roasted carrots. Simple to make and a great recipe to make ahead.

vegetables and sides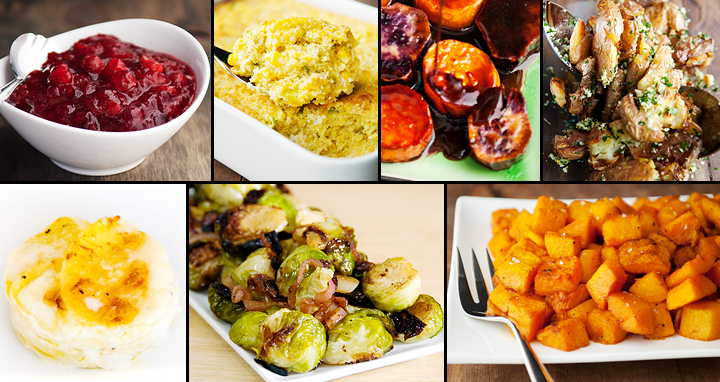 Basic cranberry sauce
: Sure, you could buy it in a can, but cranberry sauce from scratch is so ridiculously straightforward (and in my opinion, better tasting) that it deserves a little stove top real estate.
Corn pudding with green chiles: A New Mexican twist on corn pudding adds a little zing to your taste buds with chopped green chiles.
Mirin sweet potatoes: So maybe you don't want sweet potato mash with marshmallow and brown sugar topping, but you still want sweet potatoes. Here's a sweet Asian fusiony sweet potato recipe that calls for Mirin, honey, and butter.
Parmesan gremolata smasher potatoes: Crisp potatoey outside and fluffy potatoey inside, all mixed with lemon zest, parsley, garlic, and Parmesan cheese. Crowd-pleaser.
Potatoes au gratin: Creamy, cheesy, buttery, utterly indulgent classic. Oh, and potatoes.
Roasted Brussels sprouts: I'm not giving up on pushing the Brussels sprouts. They say anything roasted with bacon is fabulous, but Brussels sprouts roasted with bacon (and shallots) is doubly fabulous. This dish has converted a lot of people.
Roasted butternut squash with Moroccan spices: I love this roasted butternut squash from my friend Kalyn. The Moroccan spices really bring out the sweetness of the squash and I find myself snacking on them straight out of the oven.

birds and non-bird critters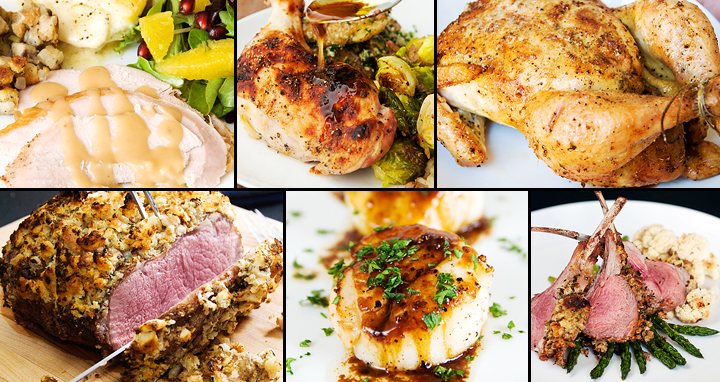 Dry-brined roast turkey
: I'm not a turkey person, but if I'm going to serve turkey I think brining is the way to go. I prefer dry brines because they involve less mess and are relatively easy. The best part of this recipe is the defatting technique from
Fine Cooking
.
Miso-butter roast chicken: Let's say a whole bird isn't in your plans, but you want some kind of bird. The miso-butter in this recipe is so unbelievably good that you'll want to save some for bread, or vegetables, or anything else you can think of. The magic is in the miso, butter, AND a head of roasted garlic. This phenomenal recipe comes from my good friend, Kathya.
Roast chicken: Not enough people to justify a turkey? Maybe you're not a fan of leftovers (for shame!). Think of a roast chicken as a smaller, faster version of the turkey. And you can still get gravy from it.
Crusted roast beef: We all know someone in our lives who is a caveman and who barely tolerates Thanksgiving turkey. I'm always one for bucking tradition. If you have a red meat-lovin' table, this beautiful crusted roast is sure to please.
Pan-seared scallops: Now that is what I'm talking about. You might be surprised to learn that my fish monger is crazy busy the week of Thanksgiving. This dish literally takes minutes (like, less than 10) to cook and it impresses EVERYONE. More often than not, Jeremy and I enjoy seafood for Thanksgiving.
Rack of lamb: Another non-turkey option that plates beautifully and takes a lot less time to cook than a whole turkey.

cakes and cheesecake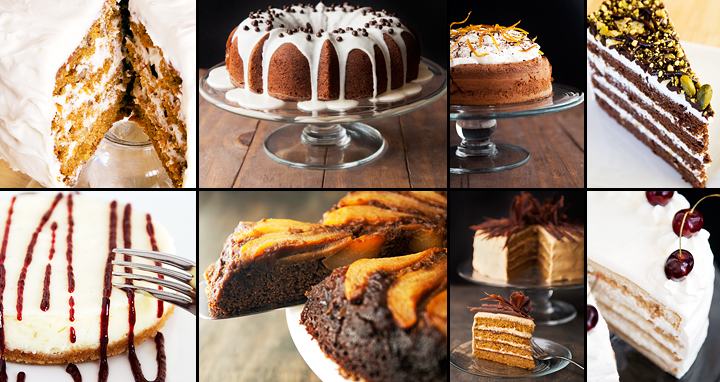 Carrot cake
: This one is a low effort cake for a crowd if you want to bake it in a 9×13-inch pan and spread frosting on top. But you get more cream cheese frosting bang per slice if you make it into a layer cake – it just requires a lot more manhandling of the cake and frosting.
Chocolate bourbon cake: Chocolatey and boozy. Plus it looks gorgeous coming right out of the bundt pan. Easy to make.
Chocolate cloud cake: Flourless chocolate cake with a big hint of orange. It is rich with a sort of meringue top when baked. The crater that forms in the middle is the perfect vehicle for a giant pile of whipped cream (the cloud).
Chocolate pistachio cake: This is an awesome dessert that makes everyone say "wow" when you bring it out. Not a simple process, but certainly a delightful end product.
Lime cheesecake with blackberry sauce: Because your Thanksgiving dinner just wasn't rich enough, you need some cheesecake in your life. This one is deceptively light on the tongue – maybe because of the refreshing lime flavor? People usually go back for seconds.
Pear upside down gingerbread cake: What better way to pair an autumn fruit with a holiday favorite? This one requires oven time, so it's best to make it ahead to avoid competition with other oveny things.
Pumpkin cake with chocolate ganache and salt caramel cream cheese frosting: There's that pumpkin again, but it's the lightweight of the trio of flavors: pumpkin, chocolate, and salt caramel. Baking and cake-making skills are a plus.
White Russian cake: Inspired by The Big Lebowski, I turned the famed White Russian cocktail into a cake. Boozy and amazeballs. Definitely use the stabilized whipped cream (with gelatin) or bad things could happen.

pies and tarts and things baked in pans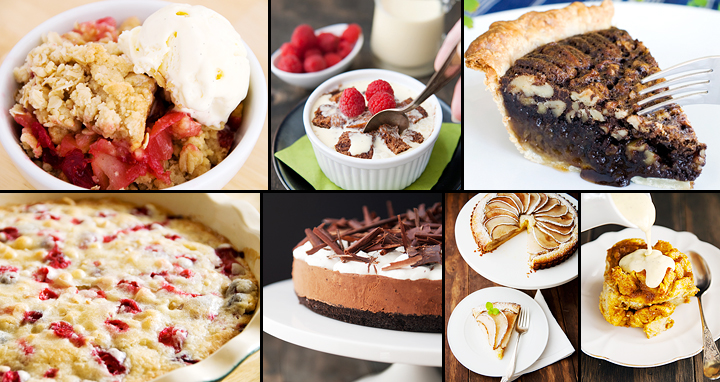 Apple cranberry crisp: It's hard to mess this one up. Prep ahead of time and pop it into the oven while everyone dines on the turkey (just set a timer for yourself, but you knew that). Wonderful when served warm with a scoop of vanilla ice cream.
Chocolate bread pudding with hazelnut liqueur crème anglais: A decadent bread pudding made from buttery challah or brioche, soaked in chocolate goodness. Don't skip the Frangelico crème anglais!
Chocolate espresso pecan pie: Because sometimes you just really need pie in your life, but you don't want the same old pie. Pecan pie with chocolate and espresso. No dozing at this dinner table.
Cranberry nut dessert: Super simple. Mix everything in a bowl, bake it in a pie dish. This recipe comes from my MIL and we love it. Almond flavors the cake which is dotted with tart cranberries and chunks of nuts (take your pick, but I make it with walnuts).
French silk pie: Silky smooth melt-in-your-mouth deliciously decadent pie. This one should be made the day before, but top with whipped cream just before serving.
Pear frangipane tart: If you love frangipane, this is for you. I'd suggest making this ahead of time (either the day before or the morning of). Dust with powdered sugar right before serving.
Pumpkin bread pudding: Another bread pudding, but this one is pumpkin to keep in step with the seasonal and holiday themes. And just like with the chocolate bread pudding, don't skip the accompanying crème anglais. This one is bourbon crème anglais, because you can never have enough booze in your desserts.
other sweets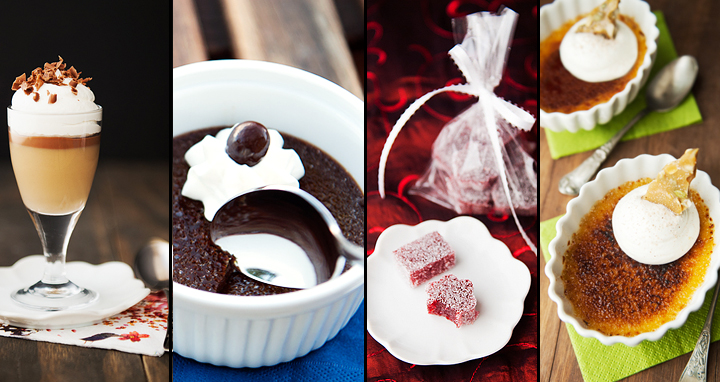 Butterscotch milk chocolate puddings
: An alternative to the cakes and pies, this double decker pudding is a treat and a half. Topped with freshly whipped cream and a shave of chocolate, and you have the perfect ending to your Thanksgiving meal.
Chocolate espresso crème brûlée: Crème brûlées ought to be made a day ahead so they have plenty of time to cool and chill in the refrigerator. The fun part is when you bring the torch out to caramelize the sugar. The chocolate espresso crème brûlée is dark, so watch carefully to ensure that you caramelize the sugar without burning it beyond recognition.
Cranberry pâte de fruits: I just posted this recipe, but these wonderful little fruit jellies are a nice sweet and tart bite to finish your meal. Great palate cleanser.
Pumpkin crème brûlée: Pumpkin flavor in crème brûlée form. If you are expecting a super smooth crème brûlée, then make the chocolate espresso version (or the classic). This one incorporates real pumpkin purée and has a bit of a texture to it – but it's a propos of the season.
Good luck, good cooking and baking, and good eating! May the odds be ever in your favor.